Salvador Jiménez-Flores
February 25, 2019
Salvador Jiménez-Flores
Assistant Professor of ceramics at the School of the Art Institute of Chicago
Hosted by the Department of Art and Art History at the Peeler Art Center
Supported by the Ted and Katie Blair Ukrop Visiting Artists Fund
February 25-26th, 2019
The Department of Art and Art History will host Salvador Jiménez-Flores from February 25th-26th, 2019 with support from the Ted and Katie Blair Ukrop Visiting Artists Fund.
Jiménez-Flores is a Mexican born artist who creates socio-political work that explores themes of colonization, migration (voluntary or involuntary), "the other," stereotypes and cultural appropriation. During his visit to DePauw, Jiménez-Flores will present a public lecture about his art practice, visit classes, and offer critiques for studio art majors. He will also invite the campus and broader community to participate in Tortilla Social, a participatory art project that uses a multi-functional tortilla press as a printmaking tool for self-expression, advocacy, art education, and food as a uniter of community.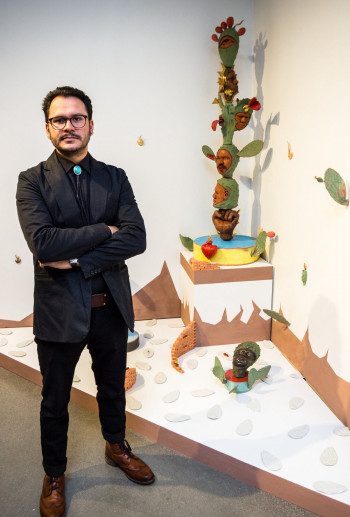 Jiménez-Flores has presented his work at the National Museum of Mexican Art, Bemis Center for Contemporary Arts and Casa de la Cultura in Jalisco, México amongst others. He recently completed a two year-long artist residency at the Harvard Ceramics Program, Office of the Arts at Harvard University and served as the Artist-In-Residence for the City of Boston. Jiménez-Flores is a recipient of a Joan Mitchell Foundation Painters & Sculptors Grant and a grant from The New England Foundation for the Arts. He currently is an Assistant Professor in ceramics at the School of the Art Institute of Chicago.
PUBLIC EVENTS
Monday February 25
4:15pm: Artist lecture, An Imaginary World of Rasquache-Futurism
Peeler Art Center Auditorium, 10 West Hanna St, Greencastle, IN 46135
Tuesday February 26th
6pm-8pm: Tortilla Social, hands on printmaking workshop and dinner
Peeler Art Center Ceramics Studio, room 106, 10 West Hanna St, Greencastle, IN 46135
CONTACTS
Meredith Brickell, Associate Professor of Art, meredithbrickell@depauw.edu
Misti Scott, Administrative Assistant, mscott@depauw.edu
765-658-4336