Museum Hue Co-Founder Stephanie Johnson-Cunningham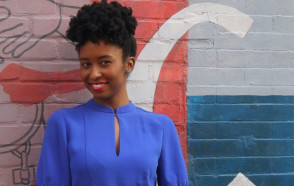 March 14, 2019
Stephanie Johnson-Cunningham
Co-Founder & Creative Director
Museum Hue
Hosted by the Department of Art & Art History at the Peeler Art Center
March 14, 2019
The Department of Art & Art History is pleased to welcome Stephanie Johnson-Cunningham, co-founder and creative director of Museum Hue, an arts platform for people of color. She will give a public talk at 7 PM on Thursday, March 14 in the Peeler Auditorium.
At this talk, Stephanie Johnson-Cunningham will discuss Museum Hue's proactive approach towards racial equity. How can museums move beyond conversations about inclusion to actualize these efforts? Students will learn about different case studies and receive essential tools to transform museums into more accessible, relevant, and honest spaces. Then, Ms. Johnson-Cunningham will engage students in a hands-on workshop in which they will develop skills to implement new ways of seeing and thinking about museums for an evolving, arts community.
Stephanie Johnson-Cunningham is a museum professional and arts educator with over ten years experience in the field. She has implemented inquiry-based learning methodologies at the New York Historical Society, Brooklyn Museum, and African American Museum in Philadelphia. Ms. Johnson-Cunningham also has served as a museum educator for children and adult audiences, as well as a lecturer at the School of Visual Arts, City College of New York, and New Jersey City University, stressing that the best pedagogical strategies include the cultural capital of communities.

A recipient of the Innovative Cultural Advocacy Fellowship for the Caribbean Cultural Center African Diaspora Institute and the Racial Equity in the Arts Fellowship for Race Forward: The Center for Racial Justice Innovation, Stephanie Johnson-Cunningham co-curated and developed the interpretive materials for Walcott House, an historic house museum in Saint Lucia and childhood home of Derek and Roderick Walcott, two influential Caribbean poets, playwrights, and visual artists. As a board member for the New York City Museum Educators Roundtable, she strived to strengthen their viability in order to reach a broader network. Ms. Johnson-Cunningham has also published widely, including articles for Curator: The Museum Journal and the Center for the Future of Museums. An active and sought after speaker, Stephanie Johnson-Cunningham holds a B.A. in Art and Art History from Brooklyn College and a M.A. in Cultural Heritage and Preservation Studies from Rutgers University.
PUBLIC EVENTS
7 PM Lecture: "Museum Hue: Transforming Museums into Accessible, Relevant, and Honest Spaces"
Peeler Art Center Auditorium, 10 West Hanna St, Greencastle, IN 46135
CONTACTS
Michael Mackenzie, Professor of Art & Art History (mmackenzie@depauw.edu)
Misti Scott, Administrative Assistant (mscott@depauw.edu)