Bed Bugs @ DePauw: A Feminist Pest Control Art Experience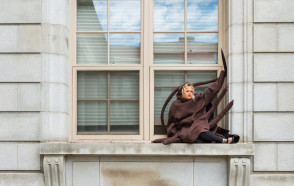 April 18, 2019
The Department of Art & Art History is pleased to welcome Lindsay Garcia, socially engaged feminist artist and part-time Assistant Professor of Art and Art History at DePauw University, to present and perform an art experience grounded in her project Feminist Pest Control (www.feministpestcontrol.com). She will deliver a performance and workshop at 4:15 PM on Thursday, April 18, 2019 in the Peeler Auditorium.
During this DePauw edition of Feminist Pest Control, Lindsay Garcia uses the Pi Phi bed bug infestation of 2011 to frame the art experience. Garcia examines how looking for pests in the DePauw archives reveals (in)visible biases lurking in the institution's past. The bed bug offers a resilient example of how interspecies prejudices develop over time and are based in social rather than scientific knowledge. Furthermore, Garcia provides hands-on tools for real and imagined bed bug infestations.
Feminist Pest Control is a collaborative social practice art project, a collection and archive of technologies, artworks, and performances, that vacillates between virtual, speculative, playful, satirical, impossible, utopian, and contradictory. Feminist Pest Control argues that infestation is a structural violence that art has the power to help ameliorate. In so doing, the project offers concrete tools for aiding with infestations, individual consultations to help with the social and mental aspects of infestation, and strategies to detangle pest-related prejudices towards humans that have been compared to pest animals as well as to nonhumans who have been relegated to the role of disposable matter.
Lindsay Garcia is an artist and doctoral candidate in American Studies at the College of William & Mary who works in performance, video, social practice, poetry, and scholarly intervention. Her work engages with anti-racist, interspecies, queer, and feminist materialisms. She holds a BFA from Rhode Island School of Design (Sculpture), an MFA from SUNY Purchase (Visual Arts), an MA from Sotheby's Institute of Art (Contemporary Art), and an MA from William & Mary (American Studies). Recently awarded a 2019 W&M Provost Dissertation Fellowship, Garcia's dissertation "Pest-humanism: Anti-Racist Multispecies Entanglements in Visual Culture" articulates infestation as a form of structural violence against non-normative bodies. She has exhibited her artwork from coast to coast and published in Lateral and Arcadia with forthcoming publications in American Quarterly and Women's Studies.
PUBLIC EVENTS
4/18/2019
4:15 PM Performance and Workshop: "Bedbugs @ DePauw: A Feminist Pest Control Art Experience"
Peeler Arts Center Auditorium, 10 West Hanna St, Greencastle, IN 46135
CONTACTS
Lindsay Garcia, Part-time Assistant Professor of Art & Art History (lindsaygarcia@depauw.edu)
Misti Scott, Administrative Assistant, (mscott@depauw.edu)