Taylor Zartman '15 Performance and Conversation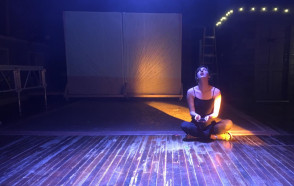 November 11, 2019
On Nov. 14, the Art and Art History Department is pleased to host Taylor Zartman for an evening of performance and conversation. Zartman ('15), a performance artist and DePauw alum, will speak about her practice and present an original and interactive performance artwork.

Taylor Zartman is motivated by collecting, connecting, and sharing. This has led her to a career where artist, educator, and community organizer interweave.
Her interdisciplinary path began at DePauw University. A 2015 graduate of Art & Art History, Taylor also began her theater career at the university. She is constantly merging the visual, performative, and historical. Taylor's production roles include Actor, Dramaturg, Director, Aesthetic Designer, and Projection Artist. As a scholar, her studies focus on Dada and Surrealism.
As an artist, Taylor predominantly utilizes absurdist performance and collage to challenge apathy and social stagnation. Her artwork has been shown in New York, Georgia, and across Indiana at venues such as I Fell Gallery (Bloomington), Cat Head Press (Indianapolis), and the Indianapolis Art Center.
As the Founder, Executive Director, and Curator of the art space and community, The Blunderbuss Cabinet, Taylor can be seen as the emcee of regular interdisciplinary showcases. Additionally, Taylor most recently performed at the 2019 Indy Convergence Open Lab, where she was an Artist-in-Residence.
Taylor will perform her piece "Confession" at DePauw University on November 14th at 7 pm. In this interactive performance, Taylor offers her vulnerable confessions through a game of chance.
Public Event – Lecture
7pm, Thursday, November 14th
Peeler Auditorium, DePauw University, 10 West Hanna Street, Greencastle, IN 46135
Free and open to the public
Contact
Sarah Cowan, Department of Art and Art History
sarahcowan@depauw.edu
THIS EVENT COUNTS AS PUNCHCARD CREDIT FOR STUDENTS ENROLLED IN AN ART, ART HISTORY, OR MUSEUM STUDIES CLASS