Ted and Katie Blair Ukrop Visiting Artists: Lobyn Hamilton and Samuel Levi Jones
February 5, 2020
"The Art of the Land: Who Holds the Power?"
a conversation with visual artists Lobyn Hamilton and Samuel Levi Jones, facilitated by Danicia Malone
4:15PM, Wednesday, March 4th, 2020
Peeler Art Center Auditorium, 10 West Hanna St, Greencastle, IN 46135
With generous support from the Ted and Katie Blair Ukrop Visiting Artists Fund, the Department of Art and Art History will host contemporary visual artists Lobyn Hamilton and Samuel Levi Jones on March 4, 2020. During their stay at DePauw, Hamilton and Jones will engage in a public conversation about reimagining the role of artists with regard to issues of ownership, accountability, the impact of/on place, power brokering, and disruption. This dialog will be facilitated by Danicia Malone, Program and Facility Manager of the Black Cultural Center at Purdue University. Hamilton and Jones will also visit classes and offer critiques for studio art majors.
Lobyn Hamilton conjures the likenesses of political activists, pop icons, musicians and unfamiliar faces/images onto canvas, sometimes onto a vintage turntable, and most recently in large-scale installations. His work is constructed from hundreds, even thousands, of broken pieces of vinyl records that he composes into images. He says, "For me, collage is about breaking rules, cutting up found images and materials to reconfigure what is familiar into something different altogether or to illustrate my unique point of view. Broken records, the blackness of vinyl, resonant remarkably with African American history and its vision of self determination."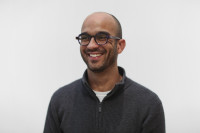 Samuel Levi Jones' work is informed by historical source material and early modes of representation in documentary practice. For many of his works, he deconstructs out-of-date encyclopedias, law books, or medical books and uses them to re-imagining new works that explore power structures and struggles between exclusion and equality. Jones says, "The artwork that I make is based on my reflection and overt reaction to the injustices that I have personally experienced as a person of color. At the same time, it reaches beyond my personal experience; it is a reaction to the more universal social and political issues that many other populations face because of race, gender, religious beliefs or other conditions that place them as less human."
In recent years Lobyn Hamilton's work has been recognized in publications including The New Yorker, Complex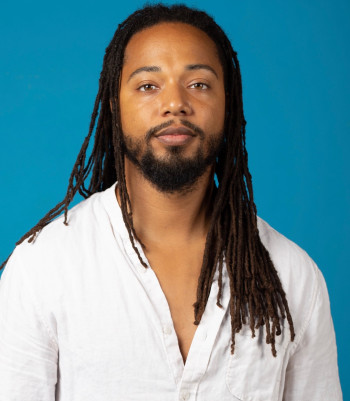 Magazine, The Chicago Tribune, ArtForm.com, Chicago Mag and the IRAAA. His work has been collected by many notable collectors and has shown at Scope Miami, Art Wynwood Miami, Indiana State Museum, Dusable Museum, Christel DeHaan Gallery University of Indiana, Patti and Rusty Rueff Gallery Purdue University, and all six seasons of Fox's Empire.
Samuel Levi Jones, born and raised in Marion, Indiana, is the recipient of the 2014 Joyce Alexander Wein artist prize from the Studio Museum Harlem. He has been featured in numerous solo and group exhibitions including the Galerie Lelong (Paris), Indianapolis Museum of Art, Studio Museum Harlem, PATRON Gallery (Chicago), Galerie Lelong (New York City), Susanne Vielmetter Gallery (Los Angeles), The Arts Club (London), The Mistake Room (Los Angeles). His work is in prominent private and public collections including the San Francisco Museum of Modern Art, Rubell Family Collection (Miami), Los Angeles County Museum of Art, the de Young Museum (San Francisco), and the Whitney Museum of American Art.
CONTACTS
Meredith Brickell, Chair, Department of Art and Art History, meredithbrickell@depauw.edu
Misti Scott, Administrative Assistant, mscott@depauw.edu
765-658-4336