Art at Home: Tips from your DePauw Art Profs
April 7, 2020
As COVID-19 interrupts our lives, faculty and students are settling into their new, way of doing things including living and learning from home or their new home space for this time.
Art studio students have additional issues because their art studio areas are such as major part of their lives in The Peeler Art Center.
Your art and art studio professors miss seeing their students on a daily basis and are also mourning being away from their usual studios and offices. We hope that their advice, that follows helps you in coming up with your own plan for navigating this new world of art and learning.
How do you prepare a work space (office/studio) outside of Peeler?
It's easy to get used to large, well equipped studios like we have in Peeler, but figuring out how to work in other places can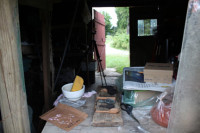 be empowering. I've taught clay workshops for kids in a conference room (covered the carpet with plastic sheeting); converted the front porch of a vacant house into a slip casting studio (BYOWater in 5-gallon buckets); and made work in an old shed on my parents farm. New ideas emerged from all of those challenges! —Meredith Brickell, ceramics
Don't overthink it ! Grab your phone, camera, notebook, pen or paintbrush and find somewhere comfy. Your setup doesn't have to be elaborate or high tech. As long as it's yours, it could be a corner of a room, a whole shed, or even completely improvised at the kitchen table. —Victoria J. Ridgway, Photography
I focus on what I do have: access to the internet to focus on research and planning for future projects, household materials to test ideas and forms with, and lots of time to spend with my sketchbook thinking through this mess. —Lori Miles, sculpture
How do you adapt your creative/research practice in a pandemic?
I haven't made any "Art" with a capital "A" yet, but I'm doing other kinds of making, which totally counts for me. I've been baking bread every few days; my son and I have been experimenting with egg recipes he found on youtube; and I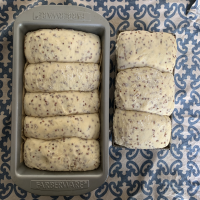 moved some plants around in my yard to make a "pandemic garden." Next week, I'm looking forward to doing art assignments alongside my ceramics students. —Meredith Brickell, ceramics
During this time, I have been trying to enforce cultivation and failure. Meaning that the fallow field is being seeded and we will see what seeds blossom over time with self empathy and tenderness being its source of nourishment. —Victoria J. Ridgway, Photography
I'm finding it important to really connect with the materials that I use, most of which is fiber from animals. I have been burying my nose deep into the roving to capture a deeper connection to life outside of my house. I am also using this time to really explore the art collection on hand at DePauw and to deeply consider how this moment in history will impact future cultural programming at Peeler. —Maggie Leininger, Director of Exhibitions
First of all, I forgive myself. It's easy to think we should all be taking advantage of this time to do amazing things. It's a global pandemic. Enduring stay-at-home orders is not like a vacation and it's certainly not a space where we should expect ourselves to be productive. I work in my jammies under the fear that my depression will get the better of me. So my first tip is to get dressed every day. When I have positive energy, I spend time focusing on the research and testing stages of art making. I use my sketchbook. I notice things in my surroundings I didn't pay attention to before and imagine them as art objects. I remember how it was to work without any of the studio resources and make art out of things in my backpack. I allow myself to be immersed in the sadness and grief of this time and think about work that responds to this time. —Lori Miles, sculpture
How are your staying connected virtually and frequently with our extended Peeler community?
Two of my classes are posting to Instagram as a weekly assignment. It's such a delight to see how students are creatively engaging with material, connecting it with their own lives, and digging deep into course content even when we can't be together. They're inspiring me to use the worldwide web in smarter, more fun ways. Check us out! #ArtandLibDPU and #PerformanceArtDPU —Sarah Cowan, American art history
I am generally bad with technology, but I did start my own facebook page and instagram account recently to follow students. They all have my cell phone number and call or text when they need words of encouragement. I miss them all terribly. —Lori Miles, sculpture
How do stay motivated and be positive in a pandemic?
I have been reviewing some of my favorite artists such as Sheila Hicks's small tapestry studies or William Kentridge's animations. I find Kentridge's interview https://www.youtube.com/watch?v=Dnweo-LQZLU and his animation https://www.youtube.com/watch?v=IEfUjg5viGk to be quite inspirational at the moment. —Maggie Leininger, Director of Exhibitions
For me, it's been helpful to give myself permission to not feel motivated or positive all of the time. We're in the midst of a strange, heartbreaking episode in human history and it's normal to not feel OK. When I want an emotional boost though, I try to go back to basics—feel my breath, call my brother, have a laugh, go on a walk. —Sarah Cowan, American art history
This has surprised me, but I uncovered some positivity while working in the yard. Maybe it is a brain trick: if I can see an improvement on a little corner of dirt and grass, it is easier to imagine and hope for, and work towards change on a bigger scale. — John Berry, Painting and Drawing
I don't. I think sometimes there are situations in life that have no silver lining, no "upside". This, for me, is one of those times. It's not that I sit in the dark all day long bemoaning what we all lost, what we all stand to lose, but I do believe that actually allowing yourself to feel the experience and absorb the impact it is having on people from every socio-economic class is also a really valuable thing to do right now. I'm trying to figure out how best to be of help to people who are experiencing a vastly different quarantine than I am.
How do you reset your body and mind?
Walking has always been a way for me to reset. Fortunately, we are still allowed to go for walks during all of this! Sometimes I go with a friend (6 feet apart of course), sometimes I listen to a podcast or call my mom, but the best walks are alone, long, and un
Famed Japanese artist Ike Taiga (1723-76) is celebrated today for his true partnership with his artist-wife, Gyokuran (1727-84), and his travels throughout Japan. To reset my body and mind, I follow Taiga's example by sharing a laugh with my partner and/or by reconnecting with the outside world via long walks. For a quick reset, here's a short video of a landscape by Chang Dai-Chien that facilitates a mental trip to China's famous Mount Yandang. https://www.youtube.com/watch?v=KGHoDE6b_A4&amp=&feature=youtu.be —Pauline Ota, East Asian art historynarrated. I consider walking to be part of my studio practice, so it counts for studio time too! —Meredith Brickell, ceramics
I am making sure that I leave the house for at least an hour per day to take long walks or runs around my neighborhood. I also am making time for contemplative making in my studio and being in the moment as I cherish time with my family. Provided that me and my family remain healthy, I am taking this time as a wonderful pause in life--especially as it comes at a moment of transition. —Maggie Leininger, Director of Exhibitions
If I need a reset I make a two minute sketch in watercolor with no plan or forethought. Often, whether good or bad, it gives me something to consider, a low-stakes echo. —John Berry, Painting and Drawing
I tried to learn to knit. I got five inches into a scarf after five hours. That is very unrewarding. I planted some seedlings with Grace. They are likely to all die if we don't get them properly transplanted. I think we started them too early. I dyed both my kids' hair and my own eyebrows. I tried to work out every day, but when the world is on hold my normal "I can get to it tomorrow" becomes "I can get to it next week". I feel proud when I remember what day of the week it is. —Lori Miles, sculpture
What studio hazards do you have to be aware of?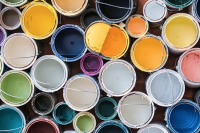 It's easy to forget about safety stuff when setting up an improvised studio space, but it's as important as ever. Working outside can solve many ventilation issues. And I remind myself to slow down to make sure I know how to properly use unfamiliar tools or materials. Google can be helpful for tutorials and safety related concerns. Or call your professors—we can help! —Meredith Brickell, ceramics
For oil painters, the big one is ventilation! Try not to paint where you sleep or you'll be breathing in mineral spirits all night. For both oil and acrylic painters: do your best not to mix food and studio areas. I probably don't have to promote this tip these days, but: always wash your hands after working! —John Berry, Painting and Drawing
Safety is more important at home than in the studio. Unlike classmates and peers, the people you share your home with are likely untrained in materials and tools, so keep that in mind. Little kids especially can be tempted to eat paint or touch hot glue guns or grab exacto knives. I'd recommend always work in ways that anyone of any age can participate in, and maybe including them in your projects. —Lori Miles, sculpture

What do you miss about Peeler?
I really miss that shared studio vibe that happens when there are a bunch of artists working on projects in a common space. People are telling stories, sketching out ideas, sharing tips, focusing on a critical detail.... —Meredith Brickell, ceramics
What I miss most in Peeler is running into folks in the hall. Quick stops for check-ins and jokes keep me going through the day. It's hard to recreate that sense of spontaneous connection through technology, but I'm trying by reaching out to students and colleagues through emails, texts, and phone calls. —Sarah Cowan, American art history
I miss the positive energy and sense of community that is always present in Peeler. There's an alchemy at play there that just can't be reproduced anywhere else, but like all things precious to me, I keep Peeler close to my heart and try to pay forward that positive energy in my phone calls, texts, hangouts, and meets. —Pauline Ota, East Asian art history
I miss seeing what students are working on in the studios, and the surprising and inspiring leaps the work can take after a weekend. I miss the feeling of determination and flexibility that permeates the work/life/art and culture of Peeler. And of course, I miss painting in my studio! —John Berry, Painting and Drawing
This has been so devastating: seeing seniors leave without a senior show or proper graduation, ushering out my introductory students without finishing projects already in progress, missing out on punchcard events (I miss punchcards!). Mostly I miss our students and frankly, mourn for all they've sacrificed through this. I miss getting Diet Cokes from the fridge, complaining about the tape repair on the lobby floor, hearing students gripe about broken tools, sending emails to find out why students are late to class. I miss mean notes taped onto projects in progress to stop other students from touching or moving it, I miss splinters from moving unfinished wood, I miss demos where I screw things up and get embarrassed, and I miss Misti and Jerry solving all my problems. Mostly I miss seeing students every day and feeling like Peeler is a space they know they belong in. —Lori Miles, sculpture