NEW! Minor in MUSICAL THEATRE for Fall 2020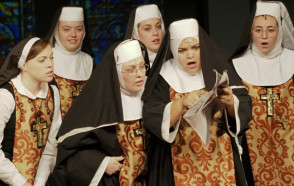 April 14, 2020
Couple your Theatre major with a Musical Theatre minor for an immersive study of the art & craft of theatre. Or for those of you with more diverse interests, continue to pursue your love of Musical Theatre as you pursue majors in Math, Political Science, or any other DePauw major.
Beginning Fall 2020, the Department of Communication and Theatre and the DePauw School of Music will offer a joint minor in Musical Theatre
MUSICAL THEATRE at DEPAUW
DePauwTheatre presents a fully staged musical each year as part of the mainstage season. Past shows include: Sister Act: The Musical, A Gentleman's Guide to Love and Murder, Company, Into the Woods, Parade, Urinetown, and Young Frankenstein.
In conjunction with the annual musical, the School of Music hosts guest artists from Broadway. These guests – both performers and composers – work with students in master classes, classroom instruction, show preparation, and performance. Guests have included Marla Mindelle, Kevin Massey, Laura Belle Bundy, Alice Ripley, Laura Osnes, Jason Robert Brown, and Adam Guettel.
MINORS IN MUSICAL THEATRE
Through the Department of Communication and Theatre, students study acting, voice and movement, theatre history, and technical theatre. The School of Music offers courses in dance, musical theatre history and literature, and musical theatre scenes.