Students create art to raise awareness about food insecurity in Putnam County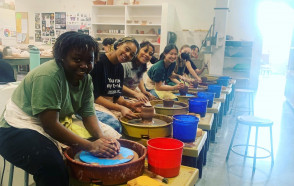 April 11, 2023
EMPTY BOWLS COMMUNITY MEAL:
A public fundraiser for the New Life Food Pantry

DATE : 6pm, April 27th, 2023
LOCATION : Ballroom, 110 Memorial Student Union Building, DePauw University,
408 S Locust St, Greencastle, IN 46135
TICKETS : available beginning April 18th at the Peeler Art Center front desk, 10 West Hanna Street, Monday - Friday: 10 am - 4pm; Saturday 11am - 5pm; Sunday 1pm - 5pm. Suggested minimum donation is $10 and $5 for students and includes a bowl and dinner.
CONTACT : Meredith Brickell, Professor of Art, 317-270-4147, meredithbrickell@depauw.edu
MORE INFO : Follow us on Instagram @depauwceramics and visit https://emptybowls.com/ to learn more.
Ceramics students at DePauw University will host an Empty Bowls Community Meal at 6pm on April 27th in the Union Building Ballroom to raise money and awareness about food insecurity in our community.The Empty Bowls Project is an international, art-based initiative that brings artists and community members together to address food insecurity at the local level.
More than 75 students have contributed to DePauw's 2023 Empty Bowls project by creating handmade ceramic bowls, as well as assisting the staff at the New Life Food Pantry and learning about food insecurity.
At the Community Meal on April 27th, guests will choose one of the bowls to eat from and take home after the event as a reminder of the importance of this issue. There will be a presentation by students about the project. Vegan, vegetarian, and gluten free food options will be available.
Tickets will go on sale April 18th and all proceeds from the event will be donated to the New Life Food Pantry.
This event meets the criteria for a Sustainable Event from the DePauw University Office of Sustainability, is hosted by the Department of Art and Art History , and supported by the Karen S. Butler Art Department Fund and the Hartman Center for Civic Engagement.