Breaking Stereotypes: [INNER] Art Exhibition Features Works by Non-Art Major Students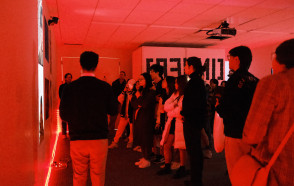 May 2, 2023
Experience the captivating exhibition, [INNER], which invites visitors to delve deeper into their mentality and shows the growth humans get as we mature. Held from April 24 to May 12, 2023, in Room 008A (Basement) of the Peeler Center at DePauw University, [INNER] is a Solo Exhibition by Duy (Nol) Nguyen that showcases five unique and thought-provoking pieces of artwork that reflect the stages of life we all must navigate.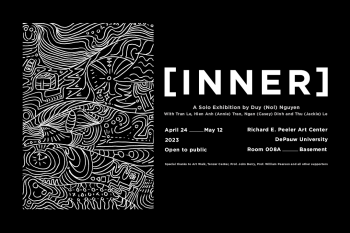 The concept of [INNER] metaphorically refers to the peripheral part of each individual's psyche. It is the place where memories, experiences, and emotions from childhood to adolescence are stored. The experiences people go through during childhood and how we are nurtured and grow up significantly impact our perception, thinking style, personality, and identity in the present. [INNER] is always present and may hold within it feelings of joy, innocence, and happiness, or feelings of sadness, insecurity due to past traumas, and the desire for healing and comfort. Thus, the exhibition's doodle art style drawn by Nol is a natural form of creative expression that often comes easily to children. However, as we grow older, we may lose touch with our innate creativity and playfulness. It can help us tap into that childlike energy, unleash our creative potential, and reflect on our past journey.
Notably, [INNER] showcases the works of non-art major students, breaking the stereotype that only formally trained artists can create noteworthy pieces.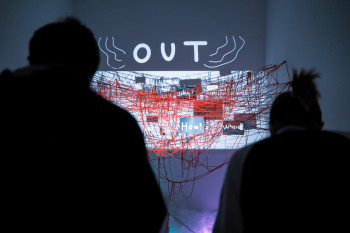 Nol Nguyen, Art Director and Project Manager, has brought his imaginative vision to life in [INNER], notable for his complete lack of art majors. The exhibition's success results from a team of talented individuals who have come together to create this unique and immersive experience. Nguyen's ideas were brought to fruition with the help of his talented team. Thu (Jackie) Le, Music Director, used technology to create melodies that resonated with every corner of the room and composed four wonderful pieces of music. Ngan (Casey) Dinh played a vital role as a Secretary in ensuring the smooth running of the exhibition, managing expenses, and communicating with different departments. Tran Le, who kept the Technology Specialist and Animation role, was responsible for creating stunning 3D models and projecting the unique doodles onto the paintings. Hien Anh (Annie) Tran, a Communication Major student, brought her expertise in designing communication materials, taking care of Marketing, and brainstorming with Nguyen on the photoshoots.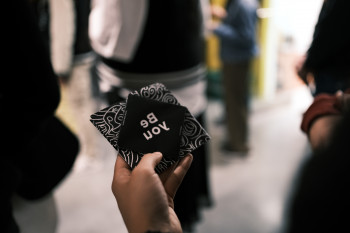 The team's dedication and hard work are evident in every aspect of the exhibition, from the unique artwork to the sound design and communication materials. After just four months of work, [INNER]'s opening ceremony was officially launched at the end of April and was attended by over 50 people eager to see the result of their hard work. The impact of [INNER] extends far beyond the exhibition, inspiring visitors to tap into their creativity and reflect their deep thoughts.
By challenging stereotypes and encouraging personal growth and creativity, [INNER] is an essential addition to the art community. Whether you are an art enthusiast, someone interested in exploring the depths of the human psyche, or just want to see immersive technology artworks, [INNER] is a must-see exhibition.
Anh Hien Tran, 2026
anhhtran_2026@depauw.edu