Former Astronaut Mae Jemison Says We Should All Set Sights Sky High
March 10, 2001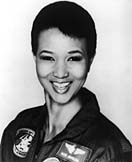 March 10, 2001, Greencastle, Ind. - For Mae C. Jemison, the dream of space travel began as she sat in her southside Chicago backyard as a little girl. "I would stare at the stars," Dr. Jemison told a packed Meharry Hall in DePauw's East College this afternoon, "and wondered who lived there, what stars were made of and if I'd someday get to go."

Someday arrived on September 12, 1992 when Jemison blasted into orbit on the space shuttle Endeavor, becoming the first woman of color to ever travel in space. But in the 1960's, such a concept was beyond most people's dreams. "All around me, I saw this explosion of new possibilities," Jemison says of that era, "new ideas that could and would direct the course of human history."

Jemison said the love and encouragement of her parents never made her doubt that she could one day realize her dream of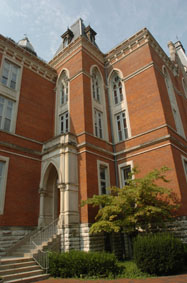 space travel. "I could see myself there, though others couldn't." Jemison recalls saying to herself, "This is my run in life, this is my journey," and told her DePauw audience to not be swayed by what others may view as limitations, saying "it's up to you to be what you intend to be."

Jemison says she's often asked what her greatest accomplishment is, and says being able to jog seven miles or completing parachute training after being afraid of heights as a child usually coming to mind. The NASA mission? "Going in space was pretty cool," Jemison admits. "But the fact is, you just sit on a rocket and somebody pushes a button."

Jemison says small tasks can have a big impact on making the world a better place. She implored her audience to do their part, individually and collectively, to make the choice and the effort to improve the human condition. "I want to be the person today that my child will become and I want the world to be the world my child will inherit."

Jemison added, "Solutions come about as a result of understanding. Science is understanding, and technology is putting that understanding to some practical use." But Jemison says the world's priorities dictate which technologies get developed.
She believes real, positive change requires taking tough stands, both in deciding what's important for the word, and yourself. "Ideas are wonderful," said the woman who became a space pioneer, "but nothing will really happen until you risk putting it into action."

Mae C. Jemison's DePauw convocation was part of the 10th anniversary celebration of Pi Lambda Chapter, Alpha Kappa Alpha Society.
A chemical engineer, scientist, physician, teacher and astronaut, Dr. Jemison left NASA in 1993 and founded the Jemison Group, a private company that focuses on projects that integrate social science issues into the design, development and implementation of technologies.
Back