State-of-the-Art Indoor Tennis and Track Center Dedicated at DePauw
April 27, 2001

April 27, 2001, Greencastle, Ind. -
[DOWNLOAD VIDEO: "Oh, My Gosh!" 186KB] "There hasn't been one person walk in this building that isn't just like, 'Oh, my gosh!,'" says DePauw University Athletic Director Page Cotton of the new indoor tennis and track center that was formally dedicated in ceremonies this afternoon. The new center is located behind Blackstock Stadium on the DePauw campus, and includes more than 132,000 square feet of space. It houses six tennis courts, a 200-meter track, batting cages for baseball and softball, golf nets, a putting green, executive locker rooms for men and women (two each) and can also accommodate indoor soccer, football, field hockey and other sports. The facility cost approximately $10 million.
[DOWNLOAD VIDEO: "First Class" 287KB] "We are standing in the midst of what we think are among the finest facilities in Division III in the country," DePauw President Robert G. Bottoms told the assembled faculty, staff, alumni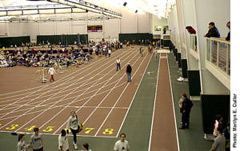 and friends of the University. Bottoms says when combined with the Lilly Physical Education and Recreation Center and the renovated Blackstock Stadium,
[DOWNLOAD AUDIO: "Progress" 95KB] "this tennis-track facility really completes our vision."
[DOWNLOAD VIDEO: "Matt Baird" 358KB] "It looks really impressive, but I can tell you it plays even better," said Matthew Baird '01, captain of DePauw's men's tennis team. "It's unbelievable. I can't express how happy I am to just have spent half a semester here and I wish I was a freshman this year to be able to experience it a little bit longer," the senior quipped. (BONUS CLIP-- Matt Baird on students' reaction to the center:
[DOWNLOAD AUDIO: "Student Perspective" 281KB])
Adrienne Gough '01, women's track team captain said the new facility has
[DOWNLOAD VIDEO: "Recruiting Tool" 154KB] "Our facilities are now a lot better than those of our competitors, so prospective student athletes are impressed," said Gough.
The dedication ceremonies were held as 700 student athletes gathered on the DePauw campus for the 2001 Southern Collegiate Athletic Conference Spring Sports Festival. DePauw athletes captured the SCAC's coveted President's Trophy.
The center is open for the use of the DePauw community. Cotton says the facility will be available to the Greencastle community once he and his staff assess how the building is being used and what its staffing requirements will be.
Back