Pulitzer Prize Winner Art Spiegelman Tells DePauw Audience of Life in NYC, Art and Comics
October 3, 2001
October 3, 2001, Greencastle, Ind. -
[DOWNLOAD VIDEO: "It's Different" 491KB]
[DOWNLOAD AUDIO: "It's Different" 382KB] "I feel like I've just escaped Beirut and I'm back in America," New Yorker and Pulitzer Prize winner Art Spiegelman told an audience at DePauw University's Kresge Auditorium tonight. "It's really different here. And it's different in such a dramatic way that everybody I know has had to take stock of everything they know in the past two weeks, and very viscerally."
[DOWNLOAD VIDEO: "The 9-11 Cover" 320KB] Spiegelman, whose work is always thought provoking and sometimes controversial, created the "black" cover of the New Yorker that was issued following the attack. As the artist told his DePauw audience, and states in an October 3rd essay in the New Yorker's online edition, what was printed on the magazine cover cannot be replicated. "What's on your computer screen is a very rough approximation of a cover that can really be seen only in its printed form," he wrote. "In a sense, the printed cover, like an etching, is the only possible 'original.'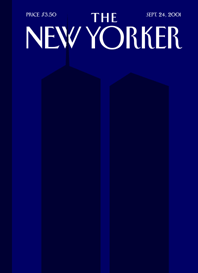 Those silhouetted towers were printed in a fifth, black ink, on a field of black made up of the standard four color printing inks. An overprinted clear varnish helps create the ghost images that linger, insisting on their presence through the blackness."
The issue in question sold out quickly and is no longer available, not even at the New Yorker's offices. Spiegelman told his DePauw audience, "in a way it's kind of insisting on something valuable in a world that has screen images all over the place, and where photography still dominates, that a drawn image ... a printed image ... can have qualities that can't be approximated elsewhere."
Spiegelman's daughter attended school in the shadow of the World Trade Center; he and his wife were there as the south tower collapsed.
[DOWNLOAD VIDEO: "STILL 9-11" 326KB]
[DOWNLOAD AUDIO: "Still 9-11" 254KB] "It's still 9-11 for me. The air still smells of death near my house; not as a metaphor, it just does. The smoke is still coming out the rubble, you see it every night," he reported to the Kresge crowd. You can read
Spiegelman's observations in his essay "Cover. How it came to be," by clicking here.
Spiegelman's DePauw talk, on "Comix 101," included a two hour slideshow tour of the history of the comic strip, touching on the work that influenced Spiegelman and the medium as a whole. The winner of a 1992 Pulitzer Prize for Maus, a two volume comic book narrative "on the Holocaust, Spiegelman said his greatest influence has been MAD magazine and its creator, Harvey Kurtzman.
[DOWNLOAD AUDIO: "MAD's Influence" 438KB] Spiegelman says MAD "changed a generation's way of thinking... by taking television on directly … Specifically, with a point of view that wasn't being heard it was, the media is lying to you, and we're part of the media." Spiegelman says those early satiric magazines influenced advertising, films, television and even American attitudes
[DOWNLOAD AUDIO: Kurtzman's Impact" 500KB] "until about three weeks ago (as) I was told that irony is (now) dead. He was responsible for all that stuff, what happens on The Simpsons and Saturday Night Live is all thoroughly and mostly consciously built on the lessons that Harvey Kurtzman offered in the first few years of MAD."
Spiegelman also offered assessments of the work of other famous cartoonists, including Chester Gould and Peanuts creator Charles M. Schulz, who became a friend.
[DOWNLOAD AUDIO: "Shulz" 534KB] "We

went to a place called Number One Snoopy Place and (I) became very impressed with him. And it made me re think just how important Peanuts was as a comic strip for a lot of people, and even for me. It never would have occurred to me to cite Peanuts as an influence, it'd be like saying I was influenced by Rice Krispies," he told his chuckling audience. "In a sense I probably was: I ate them. But I never thought about 'em very much until around then."
Art Spiegelman will conclude his DePauw visit with an open question and answer session at 1 p.m. Thursday, October 4 in Moore Theatre of the Performing Arts Center. The event is free and open to the public.
Back