DePauw 'Top Ten List' Created by Alums
January 31, 2002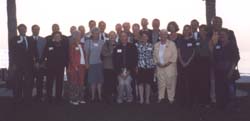 January 31, 2002, Greencastle, Ind. - The DePauw family has a lot to be proud of. At a reception in Naples, Florida, DePauw alumni put together a list of the "Top Ten Things That Make Me Most Proud of DePauw." Vice president for development and alumni relations Paul Hartman and director of alumni relations Chris Wurster shared a list of DePauw's accomplishments, and the assembled alumni ranked the items. It is far from a statistically significant survey, but the results may reinforce your good feelings about the University and give you "talking points" the next time you're discussing DePauw with friends.
"Top Ten Things That Make Me Most Proud of DePauw":
1. DePauw is in U.S. News and World Report's top tier of national liberal arts colleges for a second consecutive year.
2. Thanks to an infusion of new scholarship funding through the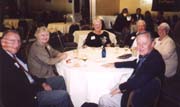 Campaign for DePauw, no student qualified for admission need be turned away for lack of family financial resources.
3. DePauw received 3,055 applications for admission in 2001, up from 2,735 in 1999. Retention from the freshman to sophomore years rose 3% to 91.8% this fall, up from 83% two years ago.
4. Last year participation in DePauw's Annual Fund rose from 34 percent to 36 percent.
5. Two major construction projects are well under way: a 125,000 square foot addition and total renovation of the Julian Math and Science Center, and a new 80,000 square foot art building.
6. (tie) Yahoo! Internet Life ranks DePauw as among the top 10% of America's "most wired" small colleges (60th out of 603).
6. (tie) DePauw had 219.7 full-time equivalent faculty in fall 2001, up from 181.3 four years ago. The faculty-student ratio is currently 1 to ten.
7. (tie) An extraordinary gift of $15 million from Tim and Sharon (Williams) Ubben, both 1958 graduates, will establish 15 new faculty chairs. The chairs are named for revered former professors. The first three were named for Donald Cook (Chemistry), Hiram Jome (Economics) and Andrew Crandall (History). Nominations are being sought to name chairs in Art, Biology and Modern Languages.
7. (tie) The DePauw, Indiana's oldest college newspaper will celebrate its 150th anniversary this April.
8. DePauw is one of only five Division III schools with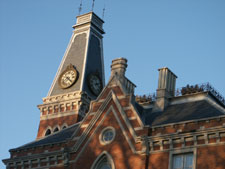 both men's and women's basketball teams ranked in the Top 25. Both squads top the Southern Collegiate Athletic Conference.
The Naples reception was hosted by Mark E. English, a 1964 DePauw graduate and member of the Alumni Board, and his daughter, Elizabeth English '99.
Back