Want to Make a Difference? Visit DCS Fair Tuesday
February 4, 2002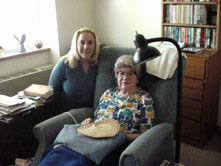 February 4, 2002, Greencastle, Ind. - You can positively influence the community and enrich your own life by volunteering to help at the Putnam County Humane Society, be a "senior friend" to a resident of Asbury Towers, or a number of other activities. The Hartman Center for Civic Education and Leadership invites you to the DePauw Community Service (DCS) Registration Fair, Tuesday, February 5, 2002 from 4 to 7 p.m. in the Union Building Ballroom.
Each year, DCS links approximately 700 DePauw students with a variety of volunteer activities that allow students to use their talents and energies to better the community, make new friends and know that they're doing something to better the collective good. You're welcome Tuesday to come out, see what's available, ask questions and sign up!
The Hartman Center for Civic Education and Leadership provides resources for volunteer programs and facilitates the education of civic responsibility and leadership. The center is named in memory of Grover L. Hartman, a United Methodist lay person who devoted more than 40 years of interfaith leadership to Indiana and the country prior to his death on 1988.
The Hartman Center sponsors a number of volunteer activities such as Winter Term in Service, DePauw Community Service, Ropes Ch

allenge Courses, Bonner Scholars Program, Alternative Spring Break, and other leadership initiatives; integration of service learning into existing volunteer programs; volunteer management training and reflection; grants for faculty to develop new courses that integrate service learning into the curriculum; faculty workshops on the design of service learning courses; and civic education symposia. The center also sponsors leadership development seminars and non-credit courses on leadership training.
For more information, click here.
Back