Prof. Cynthia O'Dell's Photographic Quilts in NYC Exhibition
February 7, 2002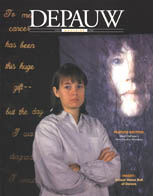 February 7, 2002, Greencastle, Ind. - "Pfizer Inc. is proud to present a solo exhibition of the vision of Cynthia O'Dell," reads a news release from the pharmaceutical company. The work of O'Dell, assistant professor of photography and video arts at DePauw University (seen in a DePauw magazine cover photo by Marilyn E. Culler), will be on display in the lower concourse exhibition space of Pfizer's world headquarters, at 150 E. 42nd Street in New York City, from February 13 through May 1, 2002.
In 1996, Professor O'Dell began documenting the lives of women from Colorado who were living with cancer. Two years of interviewing and photographing the women evolved into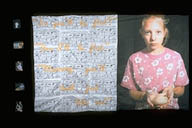 "Common Threads," a series of photographic quilts (one can be seen at right). The Pfizer release states, "In the family, the quilt has been an object of nostalgia and comfort. It was a way for the women in the family to make their own mark when it was not always appropriate for a woman to be heard. It is an object with which Cynthia's mother told her stories and defined her family history. The quilt can also be understood as an object of comfort, but by placing such an uncomfortable subject on this 'soft' surface suggests the difficulties of dealing with a disease such as breast cancer."
"Common Threads" can be viewed Monday through Friday, from 9 a.m. to 5 p.m.

To learn more about the exhibit and the artist, you can visit Cynthia O'Dell's web page by clicking here.
Back