DePauw Junior Nicole Hallett is Truman Scholarship Finalist
February 14, 2002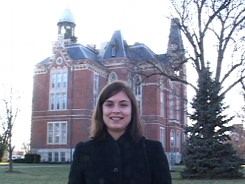 February 14, 2002, Greencastle, Ind. -- "Overwhelming and exciting" is how Amber Nicole Hallett, a DePauw University junior from Bloomington, Indiana, describes her good news. Hallett has been named a finalist for a 2002 Truman Scholarship. About 800 college students across the United States were nominated by their colleges or universities for consideration. Of those, about 200 are finalists. From that group, seventy-five to eighty Truman Scholars will be selected.
Next week, Nicole will leave for her semester abroad in Freiburg, Germany, a trip that will include a stop at Oxford, England, where she'll be interviewed by representatives of the Harry S. Truman Scholarship Foundation.
[DOWNLOAD VIDEO: "Preparations" 1861KB]
[DOWNLOAD AUDIO: "Preparations" 911KB] "In the past, I've not prepared for interviews much," Hallett says, "because I've been under the impression (that) if you prepare too much it almost makes you too nervous." But Nicole says she is spending a lot of time readying herself for her February 25 Truman Scholarship interview, where "they expect you to put almost as work into it as you did your initial application, which I worked on for several months."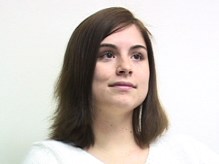 Preparations include reading a 900-page book on Harry Truman, and digesting as much information on current events as possible. Hallett must also be ready "to defend every single word, sentence, period -- everything in my application."
An Honor Scholar who is on the dean's list, Nicole Hallett is majoring in philosophy and English literature. It is not an exaggeration to say that her list of campus and community activities in voluminous. She serves on campus as alternate principal for the DePauw University Band, is an editorial writer for The DePauw, is a member of the National Society for Collegiate Scholars, DePauw's Tae Kwon Do Club and the DePauw International Center Student Committee, and served as public affairs director for WGRE radio.
In the community, she is founder and director of Bangladesh Children's Educational Empowerment, president of Campus Greens, program coordinator for Indiana Reading Corps, and a member of the board of directors of the Hoosier Environmental Council. She's also volunteered her time as a Hartman Center civic intern,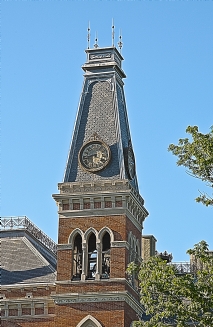 public relations director for the Socially Responsible Investment Campaign, a lobbyist for Greenpeace,and coordinator of the Putnam County Literacy Fair, bureau speaker for the Student Environmental Action Coalition, and as coordinator of a program at the Monroe County Youth Shelter that used gardening to match disadvantaged adolescents with mentors.
In April, 2001, Hallett was honored by Indiana Campus Compact as the winner of the 2001 Richard J. Wood Student Community Commitment Award for her commitment to community service. Nicole was chosen from fifteen nominees and four finalists from across Indiana.
[DOWNLOAD VIDEO: "DePauw Experience" 829KB]
[DOWNLOAD AUDIO: "DePauw Experience" 418KB] "I am so grateful to DePauw," Hallett said, citing the school's provision of "so many opportunities throughout my years. Just being able to come here-- they gave me a scholarship-- and I've tried to use my college experience to the best of my abilities while I'm here. I wouldn't be half as far as I am right now if it wasn't for all the resources and support that DePauw has given me throughout my college career."

The Truman Scholarship, an official federal memorial to America's thirty-third president, is a highly competitive, merit-based award offered to U.S. citizens and U.S. nationals from Pacific Islands who want to go to graduate school in preparation for a career in public service. Of Truman Scholars, the Foundation's web site click here says, "They are persons who have been recognized by the Truman Scholarship Foundation as future 'change agents.' They have the passion, intellect, and leadership potential that in time should enable them to improve the ways that public entities - be they government agencies, nonprofit organizations, public and private primary and secondary schools, or advocacy organizations - serve the public good. Their personal 'bottom line' is making a difference, not making a dollar." Truman Scholars receive a $30,000 grant, $27,000 of which is for graduate study in the U.S. or abroad. Recipients are notified in late March.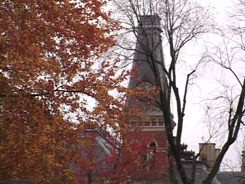 Bruce Stinebrickner, professor of political science, is DePauw's Truman Scholarship Faculty Representative. He says, "The selection of Truman Scholars each year is a highly competitive process. To be named one of 200 Truman Finalists -- as Nicole Hallet has been -- reflects an impressive record of accomplishments in both the academic and public service spheres. Nicole is DePauw's second-ever Truman Finalist. Our first, Amy Weisenbach, Class of 1998, was named a Truman Finalist in 1997 and went on to become DePauw's first-ever Truman Scholar. Whether Nicole follows all the way in Amy's footsteps to become a Truman Scholar is not for me to decide. But I have no doubt that Nicole is a remarkable young woman, as her status as a Truman Finalist indicates."
[DOWNLOAD VIDEO: "A Great Experience" 407KB]
[DOWNLOAD AUDIO: "A Great Experience" 206KB] "Even if I don't get the scholarship, it's been a great experience," Hallett said before she returned to her preparations. "This is one of those opportunities that you must seize, and certainly one that I'll always remember."
Back