Middle East Times Says DePauw Alumni Stand Behind Saad Ibrahim
February 21, 2002
February 21, 2002, Greencastle, Ind. - Saad Eddin Ibrahim's arrest "came as a shock to many of his former students at DePauw University, a highly-regarded liberal arts institution," according to a report in the Middle East Times entitled, "Ex-students rally to Ibrahim's cause." The February 4 story by Tariq Hassan-Gordon focuses on DePauw's reaction to the fight for justice being waged by Dr. Ibrahim who taught at the University from 1967 to 1974. Two days after the Times story was published, Egypt's highest appeals court ordered a new trial for the professor and human rights activist.
A sociology professor at the American University of Cairo, Dr. Ibrahim was arrested, tried and convicted of tarnishing Egypt's image, embezzlement and accepting foreign money without government approval. Ibrahim maintained he only criticized the government as he pushed for reforms. Amnesty International and other human rights organizations condemned the trial as being politically motivated. Ibrahim was sentenced to seven years in prison, a term he began serving in May. He is now free as he awaits the retrial. His wife, Barbara (Lethem) is a 1971 graduate of DePauw.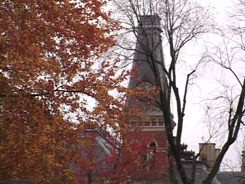 "The Alumni Association of DePauw University, Greencastle, Indiana, where Ibrahim taught... is circulating information and organizing a benefit concert at its reunion in June," the Middle East Times reported. It mentions the "teach-in" held on behalf of Dr. Ibrahim at last summer's reunion, and quotes Robert Fresen '73. He tells the paper, "The benefit concert idea came about as a means of organizing an event which would support and keep alive the cause of our former professor and friend."
You can learn more about what friends and former students and colleagues of Saad Eddin Ibrahim have planned for Alumni Reunion Weekend 2002 (May 31-June 2, 2002) by clicking here.
Also quoted is 1971 DePauw graduate Raymond Paladino, who was "saddened and disgusted with the Egyptian government for sentencing him to prison." Paladino, who first took a sociology class from Ibrahim in 1968, remembers, "he would not be shy about challenging young people in class or in outside discussions about their beliefs. He was one of my favorite professors and I am proud to say I knew him and learned from him."
Steve Johnson '70 recalls, "As an Egyptian in American society, (Ibrahim) created for many people a first -- and highly positive -- impression of Egypt and its culture, while also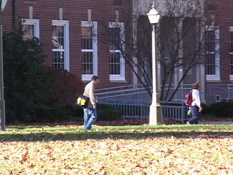 personifying the profound value of diversity in my own culture. He is a person who does not deserve to be, and should not be, in jail," he told the paper.
The writer also interviewed former DePauw history professor Herbert Levine, who states, "Saad is the kind of patriot who gives patriotism a good name. I hope I may love the United States and its people half as well as he has shown that he loves Egypt," said Levine, now a journalist in West Palm Beach, Florida.
The complete article should be available at the Times' (click here). You can read the latest on Dr. Ibrahim's case by clicking here or here.
Back