Entertainment Weekly Remembers Jacque Lyttle Lapsey '88
February 26, 2002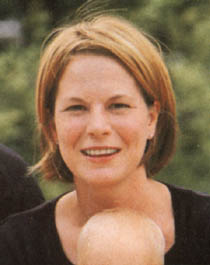 February 26, 2002, Greencastle, Ind. - "One is never ready for the call–– the one in which you learn you've lost someone you love," wrote Entertainment Weekly President John Squires and Managing Editor James Seymore of Jacque Lyttle Lapsey in the magazine's February 15 issue. Lapsey, the former San Francisco advertising sales manager for EW and a 1988 graduate of DePauw University, died January 17 of pneumococcal meningitis, an inflammation of the fluid around the brain and spinal cord, a day after becoming ill and being rushed by her husband, Chris, to a hospital. She was 36 years old, and nearly 8 months pregnant.
"Doctors could not save her," the open letter from the magazine executives reads, "but they delivered 3-pound 14-ounce Holt in Jacque's final hours. (She leaves behind two other boys, Will, 4, and Luke, 2.) 'Holt is doing very well,' says Chris, 'which would be the most important thing to Jacque.'"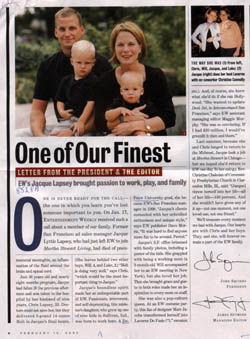 Jacque Lyttle Lapsey had recently taken a job at Martha Stewart Living in Chicago, but her former bosses called her "unforgettable" and wrote of her "boundless spirit." "Passionate, irreverent, and self-deprecating, this minister's daughter, who grew up one of nine kids in Sullivan, Indiana, was born to work here. A DePauw University grad, she became EW's San Francisco manager in 1988." The magazine's publisher, Dave Morris, adds, "It was hard to find anyone more fun to be around. Period."
The full-page open letter, entitled "One of Our Finest," includes a family photo of the Lapseys and another showing Jacque and a friend having fun. It is not available online, but can be found on page 6 of the February 15, 2002 issue of EW.
Back