Sex Signals in Meharry Hall Thursday
March 4, 2002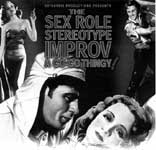 March 4, 2002, Greencastle, Ind. - Sex Signals, a play that blends a unique combination of improvisation, humor, and audience participation as a means of engaging college audiences into an honest discussion of an otherwise difficult subject, will be presented this Thursday afternoon, March 7, as part of the Student Services Spring Series. The 1 p.m. program is free and open to the public.
Originally performed at Chicago's respected Stage Left Theatre, the one-hour, two-person play begins by taking a humorous look at the awkwardness of dating as the actors represent each gender's perspective. Through improvisation and audience interaction, the play explores how social mores, mixed messages, unrealistic fantasies, and false preconceptions of the opposite sex all contribute to misunderstanding and miscommunication often found in dating. Then, through a semi-improvisational scene, the actors demonstrate how these miscommunications can lead to sexual assault, even between two normally well-intentioned people. At the end
of the play, the audience provides solutions for better communication in interpersonal sexual relationships.
"Sex Signals is brilliant," says Susan Cushman, a health educator at Loyola University in Chicago. "I can't think of a better way to engage, challenge, and educate college students about sexual assault."
Ken Carrothers, assistant director of student life at Ripon College calls it, "a terrific show that the students are still talking about... The combination of humor and discussion kept the audience captivated in laughter while continuing to examine a serious topic."
Back