Junior Nicole Hallett is DePauw's Second-Ever Truman Scholar
March 19, 2002
March 19, 2002, Greencastle, Ind. - It's official: DePauw University junior Nicole Hallett is a recipient of a 2002 Truman Scholarship. "I received the news while on a weekend trip to Prague and I could not believe my eyes when I read the email," Hallett writes from Freiburg, Germany, where she's spending the semester studying. "I was not supposed to find out until Friday so the news came as a total shock." Nicole is DePauw's second Truman winner. Amy Weisenbach, a 1998 graduate, was named DePauw's first Truman Scholar in 1997.
About 800 college students across the United States were nominated by their colleges or universities for consideration. Of those, about 200 were named finalists and were interviewed by representatives of the Harry S. Truman Scholarship Foundation. Nicole Hallett is one of only 70-80 students nationwide who made the final cut. "I was on cloud nine for a good three days, but now reality has begun to sink in again," Hallett says. "When I first heard the news, I thought, this is it, I have succeeded, but I am already back to making more plans for the future, finding new experiences, learning new things. Winning the Truman Scholarship is not an end point but merely one point along the way."

The Truman Scholarship, an official federal memorial to America's thirty-third president, is a highly competitive, merit-based award offered to U.S. citizens and U.S. nationals from Pacific Islands who want to go to graduate school in preparation for a career in public service. Of Truman Scholars, the Foundation's web site click here says, "They are persons who have been recognized by the Truman Scholarship Foundation as future 'change agents.' They have the passion, intellect, and leadership potential that in time should enable them to improve the ways that public entities - be they government agencies, nonprofit organizations, public and private primary and secondary schools, or advocacy organizations - serve the public good. Their personal 'bottom line' is making a difference, not making a dollar." Truman Scholars receive a $30,000 grant, $27,000 of which is for graduate study in the USA or abroad.
"The Truman will allow me to pick a graduate school based on what works best for me and not by the amount of aid I get or how many loans I want to have," Hallett says. "For me, that is a huge weight off my shoulders. The Truman will allow me to do what I want to do better, but I don´t think I will change my plans drastically because of it. I got the Truman because of my plans, I didn´t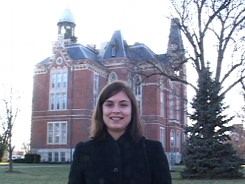 make my plans to get the Truman. Still, it is a great honor and I will try to live up to what the Truman foundation expects," she continues.
An honor scholar from Bloomington, Indiana who is on the dean's list, Nicole Hallett is majoring in philosophy and English literature. Among the lengthy list of her activities: Nicole serves on campus as alternate principal for the DePauw University Band, is an editorial writer for The DePauw, is a member of the National Society for Collegiate Scholars, DePauw's Tae Kwon Do Club and the DePauw International Center Student Committee, and served as public affairs director for WGRE radio. In the community, she is founder and director of Bangladesh Children's Educational Empowerment, president of Campus Greens, program coordinator for Indiana Reading Corps, and a member of the board of directors of the Hoosier Environmental Council. She's also volunteered her time as a Hartman Center civic intern, public relations director for the Socially Responsible Investment Campaign, a lobbyist for Greenpeace,and coordinator of the Putnam County Literacy Fair, bureau speaker for the Student Environmental Action Coalition, and as coordinator of a program at the Monroe County Youth Shelter that used gardening to match disadvantaged adolescents with mentors. In
April 2001, Hallett was honored by Indiana Campus Compact as the winner of the 2001 Richard J. Wood Student Community Commitment Award for her commitment to community service.
In an interview videotaped before leaving for her semester abroad, Nicole Hallett said,
[DOWNLOAD VIDEO: "DePauw Experience" 829KB]
[DOWNLOAD AUDIO: "DePauw Experience" 418KB] "I am so grateful to DePauw," Hallett said, citing the school's provision of "so many opportunities throughout my years. Just being able to come here -- they gave me a scholarship -- and I've tried to use my college experience to the best of my abilities while I'm here. I wouldn't be half as far as I am right now if it wasn't for all the resources and support that DePauw has given me throughout my college career."
She writes of her latest experiences, "My semester abroad so far has been very rewarding.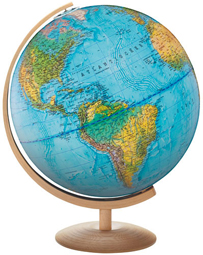 I have already traveled to six countries and countless places within Germany. I have finally begun to conquer the German language and have met people from all over the world. Today, I visited a concentration camp for the first time and reaffirmed my commitment to preventing such future atrocities. This isn´t the first time I have lived abroad, but each time is a new experience."
"The DePauw family is extremely proud of Nicole Hallett," said DePauw President Robert G. Bottoms. "This recognition by the Truman Scholarship Foundation is testament to her hard work in the classroom, and the many good deeds she does to better her community and her world. We celebrate Nicole's uncommon success."
Back