Karl Hostetler '61 Helps Develop First Pill to Treat Smallpox Infection
April 4, 2002
April 4, 2002, Greencastle, Ind. - A 1961 DePauw University graduate is among a team of scientists who have developed an oral medication that could be used to treat smallpox in humans in the event of a bioterrorist event. The findings of Karl Y. Hostetler, M.D., and his colleagues received international press attention. The New York Times wrote that "nearly six months after the anthrax attacks made the prospect of smallpox seem frighteningly real, the researchers (are reporting) the early fruits of their work: a medicine that stops replication of the smallpox virus in the laboratory dish and that prevents symptoms in mice infected with a cousin of smallpox."
San Diego's KGTV reports the new compound, a derivitative of the antiviral medicine cidofovir, "is 100 times more potent than the current therapy, which is less effective because it's injected intravenously, said lead scientists Karl Hostetler and James Beadle." Dr. Hostetler, director of the endocrine and metabolism clinic

at the VA San Diego Healthcare System and a professor of medicine at UCSD, said, "If you've got thousands of people exposed to smallpox, a drug that needs to be injected would be difficult to use widely." He told the Times that, with a smallpox drug in pill form, "people could self-administer it instead of having to go to places and stand in line." The doctor told CNN, "We thought it could work orally, but what was surprising was the activity against smallpox and viruses in the pox family was 100 times more potent than [intravenous] cidofovir itself."

The recipient of a B.A. degree in chemistry from DePauw told USA Today, "What does it mean for the ordinary person? Let's hope it means nothing, because we're all hoping smallpox doesn't reappear. If it does, it means we have a second line of defense besides vaccination." The World Health Organization says smallpox, a virus that is easily transferred from person-to-person, kills 30 percent of the people that contract it.
The drug has been in development since 1999. "It was all very theoretical, until those planes crashed into the buildings," Hostetler says. At this point the compound has been tested on mice. Next up are clinical trials involving other animals and then humans. "Although the early tests look very promising, it will be a year or two before we can be more confident about whether this is going to become a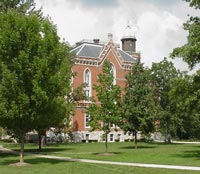 reality," Hostetler told Reuters.
Dr. Hostetler's research was supported by grants from the Department of Defense, the NIAID, the National Eye Institute, and the Veterans Affairs San Diego Healthcare System. He presented the results of his team's research at an international conference on antiviral research in Prague, the Czech Republic.
In an e-mail to his alma mater, Dr. Hostetler sends greetings to emeritus professor of chemistry Howard Burkett, and writes, "The chemistry department at DePauw had a big influence on my life."
You can read much more about the smallpox pill at the web sites of the Wall Street Journal, USA Today, KGTV, Reuters, and CNN.com.
Back