Tom Johnson '84 Celebrates a Silver in 'Cheese Olympics'
April 5, 2002
April 5, 2002, Greencastle, Ind. - Bingham Hill Cheese Company, owned by 1984 DePauw University graduate Tom Johnson and his wife Kristi, has reason to celebrate. The Fort Collins, Colorado firm's Rustic Blue cheese won a silver medal in the "blue veined cheese" category of the World Championship Cheese Contest in Madison, Wisconsin. Bingham Hill's cheese outperformed 49 blue cheeses from 10 countries and scored 99.15 out of a possible 100 points.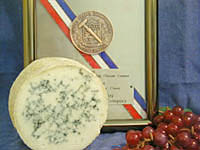 The Johnson's developed Rustic Blue, which had a first-place finish in the American Cheese Society's 2000 competition in Napa Valley. It scored a bronze medal in the United States Championship Cheese Contest, which was held in Madison, Wisconsin in March 2001.

Bob and Ginny Johnson, Tom's parents and members of DePauw's class of 1956, are partners in the business.
For more information, visit the Bingham Hill Cheese Company's web site by calling (970) 472-0622 or by clicking here.
Back