Fire at Rector Hall -- All Students Safe
April 7, 2002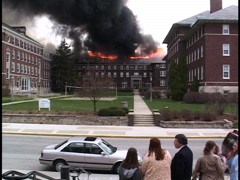 April 7, 2002, Greencastle, Ind. -

[DOWNLOAD VIDEO: "The Fire" 627KB] A fire at Rector Hall has caused major damage to the upper level of the residence hall, and forced the evacuation of Rector and adjoining Mason and Lucy Rowland Halls. It is now confirmed that all students got out of the building safely.

[DOWNLOAD AUDIO: "Students Out Safely" 119KB] Twelve fire departments battled the blaze. Two firefighters suffered minor injuries; one was treated for smoke inhalation and released, the other will be hospitalized overnight for observation. (Greencastle Fire Chief Bill Newgent on the second firefighter's injury:

[DOWNLOAD AUDIO: "Injury Report" 278KB]) STUDENTS & PARENTS click here FOR DETAILED INFORMATION
The fire was discovered by a student this morning on the fourth floor of Rector. Fire authorities received the 911 call at 7:45. "Upon arrival, Greencastle (Fire Department) was met with a working fire,"
according to Russell Evans, deputy director of Putnam County Emergency Management.

[DOWNLOAD VIDEO: "Emergency Management" 824KB]

[DOWNLOAD AUDIO: "Emergency Management" 380KB] "The first thing they did was make sure all the students got out, and all the students did get out. From there, the fire escalated on and we called in all fire departments from the surrounding area. Plus, Avon, Plainfield, and Brazil tower trucks (came) to fight the fire, 'cause it was too dangerous to fight the fire from the ground."
The cause is not yet known. The Indiana State Fire Marshal is investigating.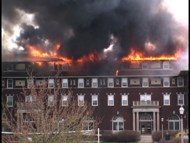 [DOWNLOAD VIDEO: "President's Update" 430KB]

[DOWNLOAD VIDEO: "Firefighters at Work" 212KB]
Greencastle Fire Chief Bill Newgent says a portion of the roof collapsed and

[DOWNLOAD VIDEO: "Chief's Report" 614KB]

[DOWNLOAD AUDIO: "Chief's Report" 285KB] "the fourth floor rooms did sustain some fire damage. The ceilings have pretty much come down in all of the rooms of the 4th floor." He says there is water damage throughout the building. The alarms, he said, worked properly, "and they are still going off right now."
At one point, flames could be seen emerging from the roof line of Rector, and thick black smoke filled the air. It took firefighters until mid-afternoon to put all the flames out. Chief Newgent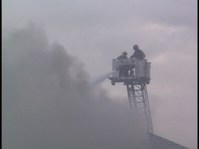 says preliminary estimates put damage at $1 million. Of floors one through three of Rector, he says,

[DOWNLOAD AUDIO: "Rector Damage" 99KB] "there's gonna be water damage, there will be some smoke damage, but some of it will be salvageable."
Built in 1917, Rector Hall has been home to 116 students this semester. Parents and immediate family members who have questions or concerns are advised to call (765) 658-4261 or (765) 658-4270. University officials have ensured that the displaced students have immediate housing. (President Bottoms on moving forward:

[DOWNLOAD AUDIO: "Where From Here?" 202KB])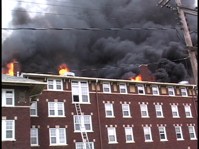 By mid-morning, DePauw students already were responding to the needs of their fellow students displaced by the fire. Sororities led the way by bringing bags and armloads of clothing to the Union Building ballroom, and then coordinated efforts to secure toiletries and other goods from local sources. Other living units and organizations quickly joined in. The fire department provided bags of blankets. Wal-Mart provided gift certificates. And many churches, professors, staff members and townspeople offered rooms for the night, or the rest of the semester.
Junior Sara K. King, a member of Delta Gamma sorority (seen in photo at right), took the initiative as the unofficial coordinator of the student effort to gather clothing and supplies.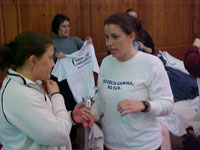 "I was at church when I heard about the fire. I went back to the house and woke up everybody to help," King said.
One of King's sorority housemates, Ann K. Triplett, was helping with the effort. Triplett's mother, Kathryn Triplett, was visiting her daughter and staying at a hotel in Cloverdale. Kathryn Triplett came to campus and joined her daughter and other sorority members to gather, sort and distribute the clothing and supplies.
Elsewhere throughout the Union Building, University officials made the phone lines available for students to call their families and assure them of their safety.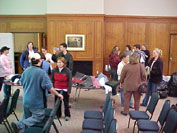 Some students took the time to have something to eat in the Hub food court. Many others crowded the front steps of the Union Building and watched the smoke and flames coming from Rector Hall. (More fire video:

[DOWNLOAD VIDEO: "Southeast Corner of Rector" 669KB] )

[DOWNLOAD AUDIO: "Messages" 297KB] "First, we want to thank the community for all the support we've received from surrounding fire departments, people offering places for students to stay, food, blankets, that sort of thing," Dr. Bottoms said. "The second message is to be sure that parents who have students at DePauw are aware that their sons and daughters are safe."
At a briefing Sunday afternoon, fire investigators announced that Lucy Rowland and Mason Halls, which adjoin Rector Hall in the north quad, are safe. Students who live in the two dorms will be able to spend the night in their rooms. The 116 students displaced from Rector will spend the night in a variety of living units on and off campus.
Meanwhile, vice president for academic affairs and dean of the faculty Neal Abraham told students that classes will be held, as scheduled, Monday. As many students lost their books and assignments in the fire, not to mention a day of study, Abraham wrote in an e-mail to faculty, "Tomorrow, when you meet your classes, some students won't be prepared and others will be upset. Please use your best judgment to accommodate students, perhaps by perhaps by deferring assignment deadlines and exams scheduled for few days of the coming week. Some of you will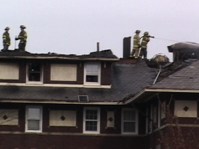 find it appropriate to make these arrangements for the whole class; others of you will choose to make individual arrangements." Dr. Abraham told the students who packed the Union Building ballroom for an update,

[DOWNLOAD VIDEO: "Go to Classes" 735KB]

[DOWNLOAD AUDIO: "Go to Classes" 342KB] "You should go to class, you should be prepared as best you can, and you should expect your faculty members, in the same way they offer to help you with housing, to be prepared to help you with emergencies you face in regard to your classwork."
An Indianapolis Star story, complete with a color photo, is accessible here. A story on the web site of Indianapolis ABC affiliate WRTV can be viewed here. You can read an Associated Press article on the fire by clicking here.
Back