TV Report Says Admitted Students & Parents Impressed by DePauw and "Giving Nature"
April 15, 2002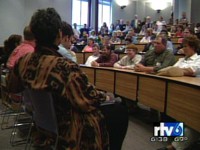 April 15, 2002, Greencastle, Ind. - "Students and parents from 25 states descended upon the DePauw campus this weekend," noted WRTV/ABC's Vince Robinson Sunday evening in a report on the weekend's Admitted Student Open House on the Greencastle campus. The event, which drew more than 645 students and their families -- a record-- to view the campus and ask questions one last time before making a decision on which college to attend in the fall, came just six days after a fire at Rector Hall. Visitors came from as far as California, Hawaii, Utah, New Jersey and Florida.
[DOWNLOAD VIDEO: "Impressed" 398KB] "You might think the fire would add to their list of concerns," reported Robinson, "but in fact, most people were impressed with the way the fire was handled."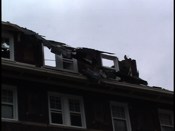 Vice president of admission and financial aid Madeleine Eagon told the station, "I think they were reassured by the safety features that we have in place and the fact that there were no serious injuries."
Two firefighters suffered minor injuries while trying to extinguish the stubborn blaze, which burned for six hours. All students got out of the dormitory safely. The 116 displaced residents of Rector Hall have now been reassigned new, permanent accomodations for the remainder of the semester.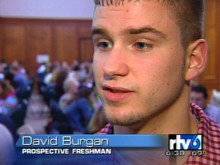 Prospective student David Burgan told WRTV,
[DOWNLOAD VIDEO: "Liked What He Saw" 515KB] "All of the rooms are really nice. It's not like they took me to one room, a nice room, when they have a whole bunch of others that are sitting there. Every part of the campus seems to be very organized and in very nice shape."
The story mentioned the outpouring of support from other students and the Putnam County community following the fire. Diana Burgan, David's mother, said,
[DOWNLOAD VIDEO: "Giving Nature" 553KB] "The community, the family type atmosphere ... really impressed with that."
By the conclusion of the weekend, 22 students had dropped off their enrollment deposits at the Admission Office, compared with 6 for last year's Open House. At this point, 446 students have already committed to enroll at DePauw in the fall, up

18% from last year at this point. As DePauw has 630 openings, next year's class is already two-thirds full. While the numbers are the strongest in DePauw's history, not only attracted a record number of applicants again this year, so are the grades, test scores and level of extracurricular involvement of this year's admitted students. "The academic quality of the students continues to be very strong," Eagon says. "It looks to be our best academic class ever."
Source: WRTV (ABC)/Indianapolis
Back