Senior History Major Emmy Huffman Helps US Document the Past
May 1, 2002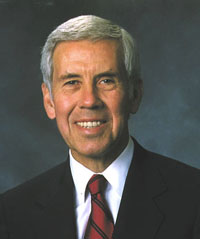 May 1, 2002, Greencastle, Ind. - The office of U.S. Senator Richard Lugar (R-Indiana) is collecting interviews with and memorabilia of those who've served America over the years, and a DePauw University senior is helping with the effort. An article in Crawfordsville, Indiana's Journal Review summarizes the Veterans History Project. Through it, taped interviews with veterans are being collected, along with pictures, medals and other items from their personal collections. The items are being archived in the Library of Congress for prosperity.
The Journal Review's article states, "According to information released by Lugar's office, 1,500 veterans die in this country each day. Many people, including Emmy Huffman, would agree an effort like this is overdue.
'It just is a different perspective than the history book perspective,' said Huffman, an intern for Lugar's office. Huffman, a history major at DePauw University, is in charge of conducting interviews in Putnam, Parke, Montgomery, Fountain, Warren and Hendricks counties."
You can read the entire story online at the newspaper's web site by clicking here.
Back