Task Force Reports on Status of Women at DePauw
June 5, 2002

June 5, 2002, Greencastle, Ind. - "Women's status at DePauw University mirrors the status of women in western society as a whole: signs of improvement are everywhere, but pockets of institutional and cultural resistance to change remain," begins an executive summary of a report to President Robert G. Bottoms on the status of women at DePauw. Dr. Bottoms appointed the task force, composed of faculty, administrators, staff and students, men and women, in August 2001.
"Our charge was to examine closely the climate on campus for all women here-- students, faculty and staff-- and to point out the issues that we thought needed to be addressed as the University works to make this a healthy climate for women," says Lisa Hollander, chair of the task force and director of the Annual Fund. "On a very general level, we found that there is much in place already that supports our efforts to create a healthy climate. There also are a number of areas that need some work."
[DOWNLOAD VIDEO: "Blue Ribbon Group" 861KB] "In the past several years, women have made up a larger and larger portion of our workforce," according to President Bottoms. "Insofar as we know, they feel very comfortable working at DePauw. But it did occur to me and our cabinet last fall that it might be a good idea to appoint kind of a blue ribbon group, let them take the year to study the situation for women at DePauw, and if they find any problems, to come back and make recommendations to us on ways we could become more sensitive."
Hollander adds, "For women who work at DePauw, we concluded that the University is committed to helping them balance the demands of work and family life. We also were pleased to discover no evidence of pay inequity-- that is, women and men who are doing like jobs are being compensated equitably." The task force's final report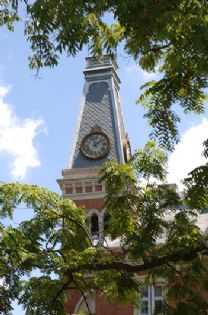 does contain some recommendations to the President, among them, that DePauw:
Add a staff nutritionist with training in dealing with eating disorders, who could work with dining services, counseling services, health services, living units and University employees.
Establish on-site traditional three-level daycare, available year-round for children of University employees.
Create a Women's Center on campus that would serve as a resource center for faculty, staff and students interested in and acting on behalf of women's issues at DePauw.
Dr. Bottoms says, "We'll use this report, and it's a very fine one, for each of the vice presidents to use in talking to employees in their areas. So, do we have problems at DePauw? We think not. Do we think conditions could be improved? Always."
You can read the task force's report, in its entirety, by clicking here.
Back