Collin Poynter '01 Has Lead Role in Bat Boy: The Musical
June 11, 2002
June 11, 2002, Greencastle, Ind. - "The half-boy, half-bat creature is played by Collin Poynter, who has a degree in vocal performance from DePauw University," writes the Indianapolis Star's Marion Garmel of a 2001 alumnus who is starring in the Phoenix Theatre's production of Bat Boy: The Musical. The article also notes that Poynter's "most recent professional appearance was in Cinderella at the [Indianapolis] Children's Museum" (Poynter is seen in a publicity photo from the theatre company).
Poynter, who majored in fine arts and computer science at DePauw, portrays "the misunderstood half-boy, half-bat in the campy" musical, in the newspaper's words. Bat Boy: The Musical, winner of the 2001 Lucille Lortel Award for the best off-Broadway musical, recently closed after a successful run at the Union Square Theatre, where it received rave reviews. The Star's Garmel writes, "In the musical, Bat Boy is brought to the home of Dr. Parker, the local veterinarian, on the assumption he will be put to sleep. But the vet lets him live, to please his wife and teen-age daughter, who begin teaching Bat Boy to be human."
You can read the entire story by clicking here.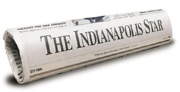 The show has a half-price preview Thursday, with its official opening night Friday. It continues through July 21. The Phoenix Theatre is located at 749 Park Avenue in Indianapolis. For ticket information, call (317) 635-PLAY (7529).
Back