DePauw Leadership Results in Unique, National Study on College Alcohol
June 28, 2002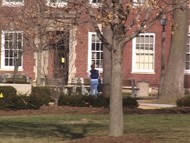 June 28, 2002, Greencastle, Ind. - In an initiative made possible by the leadership of two DePauw University alumni, The National Center on Addiction and Substance Abuse (CASA) at Columbia University has announced the formation of a commission made up of distinguished Americans to examine the measures being taken by colleges and universities to curb substance abuse on campus and identify those that are most effective.
Funding for the first report of the commission, which will focus on college drinking, is being provided by James W. Emison, a 1952 graduate and Trustee of DePauw University and chairman of Western Petroleum Company through the Hillswood Foundation, and a collaborative partnership with DePauw University, the University of California at Irvine, Alpha Chi Omega, Alpha Gamma Delta, Alpha Tau Omega, Beta Theta Pi, Chi Omega, Delta Delta Delta, Delta Gamma, Delta Tau Delta, Delta Zeta, Gamma Phi Beta, Kappa Alpha, Kappa Alpha Theta, Kappa Delta, Kappa Kappa Gamma, Phi Gamma Delta, Phi Kappa Psi and Pi Beta Phi.
"This project represents the largest coordinated effort by fraternities and sororities to date on the subject of college drinking," said Emison (seen at right). "The response of the Greek world has been exceptional. The fraternities and sororities want to join with colleges to be part of the solution, not just part of the problem."
The Commission will provide a ten-year follow-up to two groundbreaking CASA reports: Rethinking Rites of Passage: Substance Abuse on America's Campuses, the first to document the explosion in binge drinking on campuses, particularly among young women, and Smoke Free Campus: A Report by the Commission on Substance Abuse at Colleges and Universities, which resulted in hundreds of college campuses going smoke-free. Recent studies show that 44 percent of college students binge drink at least biweekly and blame drinking by college students for 1,400 deaths, 500,000 injuries, 600,000 assaults and more than 70,000 sexual assaults among students. "Ten years ago, CASA's Commission shined a spotlight on this problem," said Joseph A. Califano, Jr., CASA President and former U.S. Secretary of Health, Education and Welfare. "Today, the need is more urgent than ever to end this carnage and make our campuses safe and drug-free. This new commission will recommend practical steps colleges and universities can take to combat college drinking, smoking and drug use and its devastating consequences."
Califano also expressed CASA's "appreciation for the extraordinary commitment of Mr. Emison and the sororities, fraternities and others he has enlisted to support this work."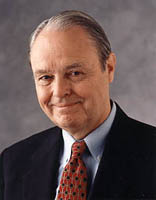 Emison was assisted by another DePauw alumnus and Trustee, Norval Stephens '51 (seen at left), chair of the Delta Tau Delta Educational Foundation, in his efforts to get fraternities and sororities to join the effort.
[DOWNLOAD VIDEO: "The Problem" 443KB]
[DOWNLOAD AUDIO: "The Problem" 278KB] "It's an issue on every campus, and these problems are inherited by the colleges when they admit their students," said Stephens, who says teenagers and young adults will participate in the process.

[DOWNLOAD AUDIO: "DePauw Leadership" 88KB] "It has started, and it was DePauw money and DePauw leadership that got it going," he added.
Reverend Edward A. (Monk) Malloy, Notre Dame University president, will serve as chair of the commission. Other members include Harvey Fineberg, M.D., Ph.D., President, Institute of Medicine; Cheryl G. Healton, Dr.P.H., President and Chief Executive Officer, American Legacy Foundation; Louis W. Sullivan, M.D., President, Morehouse School of Medicine; The Honorable Jeff Bingamon, United States Senator; and The Honorable Nancy Kassebaum Baker, former United States Senator.
The commission will hear testimony from all participants in campus life, including teachers, students, administrators and alumni. After the report has been issued, the Commission will host a meeting of key stakeholders, including college administrators, public health officials, experts on alcohol dependence and college undergraduate organizations, including fraternities and sororities to discuss the new findings and recommendations.
You can learn more about the National Center on Addiction and Substance Abuse (CASA) by clicking here. You can read CASA's news release announcing the formation of the new commission here.
Back