Museum Dedicated to Former VP Dan Quayle '69 Thriving & Planning Expansion
July 9, 2002
July 9, 2002, Greencastle, Ind. - "10 years after it opened its doors here in Quayle's hometown... the first institution dedicated to a living American vice president -- officially called The Quayle Center, Home of the American Vice Presidency Museum -- is doing quite nicely," writes the Chicago Tribune of the Huntington, Indiana museum that chronicles the life of Dan Quayle, the forty-fourth Vice President of the United States and 1969 graduate of DePauw University. The Quayle Center contains exhibits on all those who have served in the second highest office in our nation, with a focus on the Huntington native who served under President George H.W. Bush.
The Tribune's Mike Conklin writes, "attendance is climbing and expansion of the facility is on the horizon ... The museum, which is housed in an old Christian Science Church, drew an all-time high of 4,400 visitors in 2001 and, with the new summer season barely under way, [museum director Dan] Johns said the count is roughly 1,000 ahead of last year's pace. Furthermore, an adjacent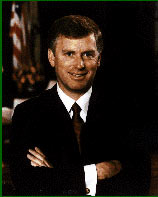 house has been purchased with the intention of razing it to build an auditorium to accommodate more programming. 'We're just starting to get the senior bus trips too, and that should be a big plus for us,' said Richard Poole, a local businessman who serves on the Quayle board and is one of the museum founders. 'If we were about 12 miles farther north, which would put us next to the Interstate, it would really help.'"
Conklin adds, "Johns attributes the recent growth in the museum's popularity to an increase in its educational outreach efforts, which include aggressively booking school tours and adding accredited programs that help students and teachers gain academic credits ... The museum's directors have also broadened the institution's base by turning it into a repository for materials and research on all 46 of the men who have served as vice president. Earlier this year, the name was changed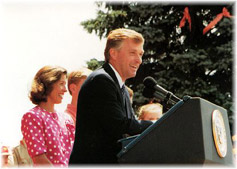 from the Dan Quayle Center and Museum to the more inclusive new one. 'This really was the idea of the Quayle family,' said Johns... 'No one wants this to become a museum full of Dan's baby pictures.'"
The story notes, "Upon graduation from DePauw University and Indiana University's law school, Quayle opened a practice in Huntington with his wife (their law office shingle is in the museum) before entering politics. His meteoric climb saw him elected to the U.S. House at age 29 and the U.S. Senate at 33. He was only 41 when Bush picked him for vice president in 1988."
For more information on the Quayle Center, visit its Web site by clicking here.
Back