DePauw to Mark 9/11 Anniversary with Events, Memorial Quilt
September 3, 2002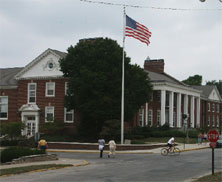 September 3, 2002, Greencastle, Ind. - Students, faculty and staff at DePauw University will mark the one year anniversary of the September 11 terrorist attacks with ceremonies, reflection, discussions and the creation of a memorial quilt.
[DOWNLOAD VIDEO: "Learning and Coping" 788KB]
[DOWNLOAD AUDIO: "Learning and Coping" 361KB]"We all might have individual experiences or thoughts or changes that we've gone through in this year, but we've got to remember that we're part of a community," says Tamara M. Beauboeuf, assistant professor of education and sociology, who is overseeing DePauw's 9/11-related commemorations.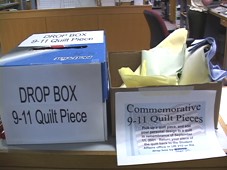 Twelve inch square patches of cloth are now available at three locations across campus: in the Hub area of the Union Building, at Roy O. West Library's main information desk, and in the office of student affairs in the UB.
[DOWNLOAD AUDIO: "Quilt Project" 266KB]"We have permanent markers at all of these locations, and we're encouraging people to create images, or write poetry, or anything that represents for them where they are a year after 9/11," Dr. Beauboeuf says. Completed squares should be returned by this Friday, September 6th, and will be sewn together to form a memorial quilt.
Three events are planned for next Wednesday, September 11:
At 8:55 a.m., a campus-wide moment of silence will be observed
At noon, an open microphone event will take place on East College lawn, where members of the campus community can express their thoughts and feelings
At 8 p.m., an interfaith Ceremony of Commemoration will take place in Bowman Park
In addition, the Compton Center for Peace and Justice will be sponsoring a week-long educational series:
Monday 9/9, 4:15 p.m.: The World and 9/11: Citizenship and Civic Education; a panel discussion hosted by University Rabbi Lewis "Buz" Bogage and professor of political science Robert Calvert and Anas Malik, director of the Quantitative Reasoning Center and assistant professor of political science, in Terrace Room C of the Union Building
Monday 9/9, 7 p.m.: The Other Terrorism: Plan Colombia; with Glen D. Kuecker, coordinator of DePauw's Conflict Studies Program and assistant professor of history, in Watson Forum of the Eugene S. Pulliam Center for Contemporary Media
Tuesday 9/10, 4:15 p.m.: Expanding World Views in Light of 9/11; a discussion cirle hosted by the Compton Center for Peace and Justice and the International Center, at the International Center, 307 E. Seminary Street
Thursday 9/12, 4:30 p.m.: World Systems Theory and 9/11; a discussion circle hosted by A duscussion circle hosted by Thomas D. Hall, Lester M. Jones Professor of Sociology and DePauw senior Juan Pedroza, in Terrace Room A of the Union Building
Friday 9/13, 12:30 p.m.: The Banality of Tragedy: What 9/11 Has Not Changed, with instructor of political science Brett O'Bannon, Union Building "Fishbowl"
Of DePauw students, Beauboeuf (seen in accompanying photo) says,
[DOWNLOAD VIDEO: "Very Deeply" 105KB] "I think many of them felt very deeply about what happened on 9/11." The professor says the events of that day, and the reflection that followed, strengthened the young adults' belief in
[DOWNLOAD AUDIO: "Bound Together" 305KB]"the idea of community, whether they define it as their families, or their dorms, or their houses, or Greencastle... I think they're just more mindful of [the fact] that there are people in the world they need to get to know better, that they need to spend time with... that we are all bound together in something."
DePauw's 9/11 events were planned by a committee composed of professors Beauboeuf and Malik; assistant dean of students Denise Hayes; Sandy Smith, assistant to the director of the McDermond Center for Management and Entrepreneurship; Nicole Pacino,
fifth-year intern for the Russell J. Compton Center for Peace and Justice; interim dean of religious life William Hamilton; vice president for student services James Lincoln; and DePauw student body president Edmond Krasniqi.
Dr. Beauboeuf says the events that brought students together spontaneously last September 11th resonated deeply. (read more here and
[DOWNLOAD VIDEO: "It's Essential" 210KB]
[DOWNLOAD AUDIO: "It's Essential" 96KB] "We all know that community is important and I think this reminded us that it's essential: it's all that we are."
Back