National Science Foundation Awards DePauw $841,000 for Interdisciplinary Faculty-Student Research Project
September 18, 2002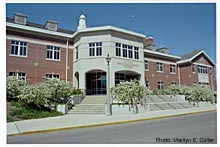 September 18, 2002, Greencastle, Ind. - The National Science Foundation has awarded DePauw University a grant that will total $841,000 over four years. Believed to be the largest of its kind ever awarded to a DePauw faculty research team, the grant will support an interdisciplinary research collaboration involving seven faculty members in four departments and 21 students. "It's really exciting," says Wade Hazel, professor of biology and former chair of the department of biology at DePauw. "It lets us do things we wouldn't normally be able to do."
Neal Abraham, vice president for academic affairs and Dean of the Faculty, adds,

[DOWNLOAD AUDIO: "Exciting for DePauw" 243KB] "The kind of collaboration, the kind of support for student engagement and research early in their careers, is one of the very exciting opportunities at DePauw, and it's equally exciting to have national validation of that work
by receiving a grant of this magnitude."
The NSF monies will underwrite a project entitled, "Theoretical and Empirical Studies of a Conditional Strategy: Environmentally Cued Pupal Color in Swallowtail Butterflies." Dr. Hazel (seen holding pupae in photos) says there's a "common misconception" that female butterflies lay eggs, which hatch into caterpillars and the caterpillars then produce cocoons. "Most butterflies don't have cocoons at all. The pupae in butterflies are naked, in the sense that they're exposed: attached to the undersides of leaves, or on a fence post, tree trunks, weed stalks, that sort of thing. In a number of species of butterflies, the fully developed caterpillars have the ability to sense the color of their surroundings, or the time of year at which they're being produced, and produce either a green or a brown pupa, depending upon the color of surface to which they are attached. So, they're assessing their environment through receptors in their eyes and probably some other organs, and then making a neuroendocrine decision about whether to molt into a pupa that has brown integument or green integument. "
Hazel says with the NSF grant,

[DOWNLOAD VIDEO: "The Goal" 533KB] "What we want to do is find out how they're doing this.
We want to compare populations and with respect to how they respond to cues, and connect the project to some larger issues such as climatic change. The grant, for collaborative research at undergraduate institutions,

[DOWNLOAD AUDIO: "Extremely Collaborative" 247KB] has to involve at least one other department and we really knocked that one dead with having 4 departments involved here."
In addition to Wade Hazel, who is project director, Robert J. Stark, professor of biology; Chet S. Fornari associate professor of biology; Kevin S. Kinney, assistant professor of biology; Gloria Childress Townsend, professor and chair of computer science; Richard C. Smock, professor of mathematics; and Bryan A. Hansen, professor of chemistry and chair of the department of chemistry will all work on the project as co-principal investigators and supervisors of the student researchers.
"Gloria's going to be responsible for designing some simulations, because we want to address some assumptions of a mathematical model that Rick Smock and I have worked on for about 10 years or so, and Rick will be refining that model as it relates to this particular trait. Chet Fornari will be working out the molecular genetics of the trait, so he'll be sequencing the genes that we think are involved. The first step to getting at those genes, will be to isolate and purify the hormone that controlled pupal color, and that's what Bryan Hansen will be involved with. Once we have the hormone's amino acid sequence we can use the genetic code to work back to the gene. Armed with the hormone's amino acid sequence we can do all sorts of interesting work. For example, Kevin and Bob will be using antibodies to tag the hormone so they can follow where it is produced and where it goes once it's released," Hazel explains.
Dean Abraham says the project underscores one of DePauw's strengths.

[DOWNLOAD AUDIO: "DePauw's Uniqueness" 358KB] "This serves as a confirmation of the kind of science and science research that can be done effectively at a liberal arts college. We're small enough so people in a biology department work regularly with people in other departments, rather than what you would find in a large university where those in a department might not even know or work with others in the same department."
At least 21 DePauw students will be involved in the research over the four year term of the project which,

[DOWNLOAD AUDIO: "Increased Visibility" 330KB] "increases our visibility hugely, I think. Assuming that the students do something that's well-received by the scientific community, I think it's going to increase the chances of students from DePauw getting into graduate schools, for example, because faculty at other institutions will have seen what students do here."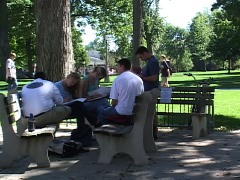 Hazel may also enlist area high school science teachers to serve as project assistants, so the positive impact of the research may reach other local schools.
Wade Hazel and his faculty colleagues have supervised students in a number of other research projects that have taken place over summers and during school years. Last year, Fornari received a laboratory improvement grant from the National Science Foundation which provided molecular genetics laboratory equipment. Dr. Hazel says,

[DOWNLOAD VIDEO: "Administrative Support" 367KB] "There's [now] a lot more administrative support for faculty wanting to do research -- there's more encouragement, and I think more faculty have an interest to doing research, particularly with students -- than in the past."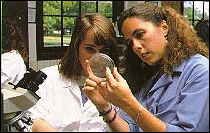 The biologist says the research that will be conducted at DePauw will benefit the faculty, the institution and the students.

[DOWNLOAD VIDEO: "Beneficial and Fun" 593KB] "Assuming we are able to obtain publishable results this work will increase the visibility of the institution and our students --- it'll really look good on the students' record to have a publication. It should be a major attraction for students wanting to major in the sciences here. In addition, we're going to have a great time doing the research."
You can learn more about Wade Hazel and his research by clicking here.
Back