DePauw Student is Contestant on TV's Weakest Link
November 13, 2002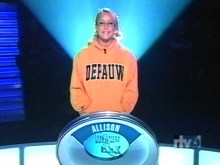 November 13, 2002, Greencastle, Ind. -
[DOWNLOAD VIDEO: "Allison Introduces Herself" 156KB] If you were watching the syndicated version of the hit television quiz show Weakest Link tonight, you might have seen the black and gold of DePauw University prominently displayed. Allison Ehinger, a freshman from Fort Wayne, Indiana, was a contestant on a special college edition of the syndicated program which aired across the USA. Ehinger wore a DePauw sweatshirt on the cut-throat quiz show, in which contestants vote to eliminate a fellow competitor at the end of each round. Students from six different colleges competed in the program's special edition.
"This summer I 'tried out' for Weakest Link, almost as a joke," Ehinger says. "I had to go into a room with 200 people and take a test. Then, we had to give an introduction of ourselves, trying to be as unique as possible. After that, the people who were putting on the try-out graded the tests and talked about who they wanted to move on to the next round. I was selected to be in the final five for the Fort Wayne area. We then taped a 'fake' Weakest Link, and the tape was sent to Los Angeles." In mid-September, Ehinger learned that she would be flown to California for a taping of the show October 3.
The DePauw first-year student's appearance on Weakest Link was short-lived.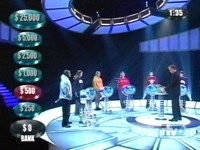 Ehinger could not correctly answer the first question posed by host George Gray, "What 'S' is the Scandinavian country that contains the main campus of Stockholm University?" (answer: Sweden).
[DOWNLOAD VIDEO: "State Bird Question" 233KB] But to the second question, "Which is the official state bird of more US states: the cardinal or the robin?" she correctly answered "the cardinal." In the show where someone has to go after the end of each round, Ehinger's fellow contestants (several of whom also missed questions) sent her home.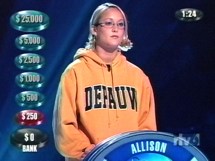 "It was quite an experience and a lot of fun," Allison Ehinger says. "It's also a relief now that the show has aired and I can actually talk about what happened! My friends were asking 'How did you do?' and, on orders of the producers, my lips had to remain sealed. I'd never been on television before, and literally found out about 30 seconds before the taping that I would be one of the contestants. While it would've been great to have won, I had a great time, made new friends and learned a lot," the freshman added.
You can learn more about Weakest Link at the show's Web site, accessible by clicking here.
Back