Wabash Keeps Monon Bell With 35-7 Victory
November 16, 2002

[Download Video: "2002 Monon Memory" - 3733kb]; Order Monon Bell DVD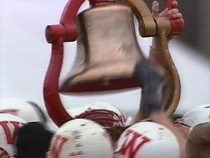 November 16, 2002, Crawfordsville, Ind. - Quarterback Jake Knott and tight end Ryan Short connected on four touchdowns this afternoon,

[DOWNLOAD VIDEO: "Knott to Short #1" 488KB] leading Wabash College to a 35-7 victory over DePauw University in the 2002 Monon Bell Classic.
Wabash led 35-0 by halftime

[DOWNLOAD VIDEO: "Knott to Short #2" 523KB] . DePauw's lone score came in the fourth quarter when, on a reverse, wide receiver John Stephens threw a pass to Jamarcus Shephard that resulted in a 64-yard touchdown

[DOWNLOAD VIDEO: "Stephens to Shephard" 824KB].
The win makes Wabash, which was already heading to the Division III playoffs as champion of its conference, 10-0 on the season. DePauw finishes the campaign 7-3, with all of the Tigers losses coming at the hands of teams that are ranked among the nation's top ten.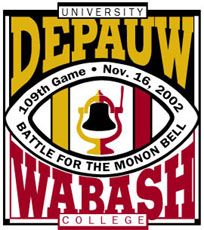 For a more detailed look at today's game, including a complete recap and statistics, click here. View a "Monon Memory" of the game action, produced by Ken Owen '82, director of media relations at DePauw, here:

[Download Video: "2002 Monon Memory" - 3733kb].
The overall series is now deadlocked at 50 wins for each school with 9 ties.
You can see and hear The Ballad of the Monon Bell here:

[DOWNLOAD VIDEO: "See The Ballad of the Monon Bell" 9364KB]

[DOWNLOAD AUDIO: "Hear The Ballad of the Monon Bell" 2900KB].
Back