Brad Brownell '91 Will Make Head Coaching Debut Against 'The General'
November 21, 2002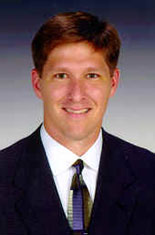 November 21, 2002, Greencastle, Ind. - Brad Brownell, the new head men's basketball coach of the University of North Carolina-Wilmington and a 1991 graduate of DePauw University, "knows he can't let his mind-- or his eyes-- wander when he makes his college basketball head-coaching debut" Friday night, notes Dave Johnson in today's Evansville Courier & Press. Brownell's Seahawks open their season Friday night in Lubbock, Texas against Texas Tech, and the DePauw alumnus "will be going up against a coach who is already in the Hall of Fame: Bob Knight."
"I'll have to discipline myself not to look down there at their bench too much," Brownell, who is a native of Evansville, told the Indiana newspaper. "There'll be a natural tendency to do that, especially early in the game. But the first time one of my players makes a mistake, or the referee makes a mistake, I'm sure I'll get into the flow and forget who's coaching the other team." Brad Brownell admits he's a "big fan" of Knight, who became a coaching legend while at Indiana University.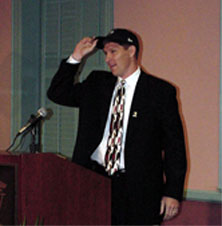 The article notes that "Brownell, 34, was a standout guard at DePauw, starting on teams that went 18-8, 24-7 and 20-7 and earned two NCAA Division III Tournament berths. He got into coaching 12 years ago as a graduate assistant for Jim Crews at the University of Evansville." Brownell has been at UNC-Wilmington, a Division I school, for eight years as an assistant coach, the last four as associate head coach, and was awarded the head coaching job when Jerry Wainwright resigned last spring to become head coach at Richmond.
You can read the entire Courier & Press article by clicking here. Another column on Brownell's first game appears in the Dallas Morning News (click here). Learn more about UNC-W's basketball program at the team's Web site here.
Back