Bonner Scholarships Offer DePauw Students Opportunities to Learn, Help Others and Build a Better World
November 25, 2002
November 25, 2002, Greencastle, Ind. - One of DePauw University's ages-old traditions is the commitment of its students to community service. Today, approximately 60% of the undergraduates at the University better their community and their world by reading to children in the Putnam County community, participating as mentors and coaches at local schools and embarking on humanitarian service trips around the globe to help build homes and deliver food and medicine to some of the world's neediest people. One group of DePauw students is leading the way in those efforts.
The Bonner Scholars Program, named for benefactors Bertram and Corella Bonner, is a group of approximately 80 students (20 from each class at DePauw) who each devote ten hours of their week to community service in West Central Indiana. The Bonner president, junior Katie Findley, says Bonner Scholars give of their time, talents and energies,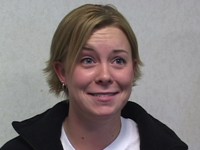 [DOWNLOAD AUDIO: "Reaching Out" 86KB] "All over Greencastle -- the (Putnam County) hospital, South Putnam High School, Greencastle High School, Tzounakis Elementary School, the Red Cross, the Mayor's office, [virtually] everywhere."
Founded in 1990, the Bonner program sets out to provide financial assistance to college students who have shown a commitment to service and demonstrate a financial need. It has grown to include chapters at 25 American universities, where some 1600 students are Bonner Scholars. Each gets a scholarship that helps defray the costs of books and travel to-and-from school; the program also provides bi-weekly checks to help students meet their needs. The Bonner program also supports a summer service opportunity that offers students $1500 toward tuition if they perform 240 hours of summer service for a not-for-profit organization.
This often provides an opportunity for students to travel and spent their summer volunteering away from home in a locale they have not visited before.
Mrs. Bonner passed away earlier this year at age 93. She was preceded in death by her husband in 1993. Senior Nathan Hand, a past president of DePauw's Bonner chapter, got to know Mrs. Bonner during a summer spent in Princeton, New Jersey at the Bonner Foundation headquarters.
[DOWNLOAD VIDEO: "Remembering Mrs. Bonner" 868KB] "She was very weak at the time, but only physically. She had a really big heart: a real heart for people and for service and for continuing the mission of the Bonner program. She was very active in trying to vist every school at least once every two years, as long as she could. The money she has raised and maintained has done a lot of good throughout the country."
One of the many activities that Bonner Scholars take part in each year on the DePauw campus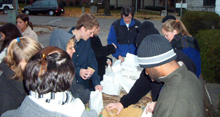 is "A Service of Lessons and Carols," to take place this year on Wednesday, December 4. The scholar-volunteers create 5,000 luminaria and place them around campus to be lit simultaneously, creating a beautiful and festive sight. Findley says that during the service,
[DOWNLOAD VIDEO: "Lessons & Carols" 635KB] "different people read [texts about the holidays] and it's during the Christmas season and it's really beautiful to walk around campus and see all the candles lit."
Students interested in applying to the Bonner program can find an application online by clicking here.
Back