DePauw Music Student Invited to Prestigious Masterclass
December 2, 2002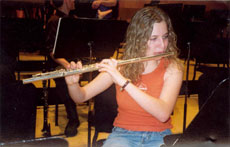 December 2, 2002, Greencastle, Ind. - Kim McMillen, a sophomore music major at DePauw University, was recently invited to take part in a flute masterclass at the University of Indianapolis conducted by famous European flutist Barthold Kuijken, one of the world's top performers on the baroque flute. Kuijken was in Indianapolis recently to perform with the Indianapolis Baroque Orchestra. McMillen was the only undergraduate to be invited and was in a class consisting of faculty and doctoral students from around the country. She was accompanied at the masterclass by DePauw part-time instructor of piano John Clodfelter.
Kim McMillen studies at DePauw with Professor of Flute Anne Reynolds, who observed the masterclass. "It was incredible, to say the least," Professor Reynolds remarked. "For Kim to have the opportunity to play for such a great musician and teacher was indeed an honor. She performed beautifully, even more so after he worked with her."
The sophomore says, "This was an experience of a lifetime, and not one that will be forgotten anytime soon. I was pretty nervous going into the class. I was given an hour to play, and I learned many more techniques and ideas than I thought was possible to learn about flute in an hour." McMillen adds, "One thing that really stuck in my mind was his idea that playing music is like riding a bike -- you may peddle slower or faster, but you never stop peddling. I tend to think of music from one phrase to the next, and Mr. Kuijken gave me a new perspective. I'm sure things that he said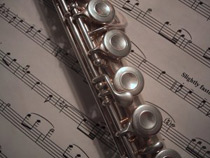 to me will hit me years from now that I can't even begin to understand right now. He didn't focus on being good or bad, just on getting better. He was an amazing teacher, and I am extremely happy to have gotten this opportunity."
Kim McMillen is the principal flutist in the DePauw University Band and co-principal flutist of the DePauw Symphony Orchestra. While in high school, she was the principal flutist of the New World Youth Symphony Orchestra and the Indianapolis Symphony Orchestra's Side-by-Side program. She is attending DePauw as a Lilly Endowment Scholar.
Back