Ring in Holidays With "A Service of Lessons and Carols"
December 3, 2002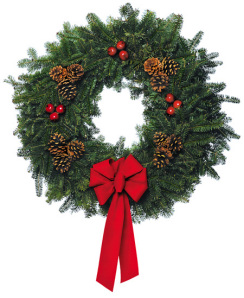 December 3, 2002, Greencastle, Ind. - The DePauw campus will once again light the way for a celebration of the holiday season when the University and Greencastle community share "A Service of Lessons and Carols" Wednesday night, December 4. DePauw student volunteers will place 5,000 luminaria across the campus to set the festive atmosphere. Sponsored by the Bonner Scholar Program, Grover L. Hartman Center for Civic Education and Leadership, and DePauw's Religious Life Center, the Service of Lessons and Carols will begin at 7:30 p.m. in Gobin Memorial United Methodist Church. All are invited to participate.
This year's program will include music provided by four DePauw music groups: the DePauw Choir, Schola Cantorum, DePauw Gospel Choir (seen in photo below) and the Brass Ensemble. Conducting the service will be Larry Burton, pastor of Gobin Church, and William Hamilton, DePauw's Dean of Religious Life. Greencastle Mayor Nancy Michael also will participate in the program.
The Festival of Lessons and Carols was introduced in 1880 in England by Bishop F. W. Benson. As a Christmas Eve parallel to the Great Vigil on the night before Easter, this original service focused on a series of scripture lessons that rehearsed salvation history beginning with the Fall in Genesis and ending with the birth stories of Christ found in Luke and Matthew. Assigned as a response to each reading was a specific traditional carol. The service became popular fairly quickly and was relatively unchanged for nearly 40 years.
In 1918, the Festival was adapted for use in King's College, Cambridge, by Dean Eric Milner-White. The service that will be conducted at Gobin Church on the DePauw campus is a slight variation of that used at Kings College.
Back