'Computers for the Community' Giveaway Enhances Putnam County Lives
December 9, 2002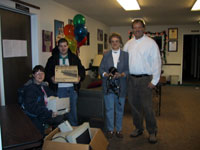 December 9, 2002, Greencastle, Ind. - Eighteen Putnam County families who didn't have computers last week are today equipped with the technology, thanks to the Community Technology Enhancement Program (CTEP). On Saturday, the program that collects computer hardware from DePauw and the Putnam County community, refurbishes the equipment, and distributes it to people in need, offered a "Computers for the Community" giveaway, which was sponsored by the Grover L. Hartman Center for Civic Education and Leadership.
Families with children in need of computers were referred by Putnam County Comprehensive Services and Putnam County Family Services, and according to Bob Hershbeger, assistant professor of Spanish at DePauw and coordinator of CTEP, "families began lining up at 8:15 a.m., forty-five minutes before the computer distribution was to begin. In all, about 25 families showed up. We were able to provide 17 complete systems (plus one more I set up on the fly) for a total of 18 units. We also gave out 6 or so printers, several sets of speakers, two extra monitors and 3 or 4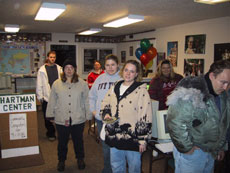 modems. Those families who did not receive a computer Saturday are on our list and will receive one of seven machines that we will have available next week."
CTEP volunteers, including members of DePauw's Computing Services staff, students in the Information Technology Associates Program (ITAP) and members of Pi Beta Phi sorority and Delta Upsilon fraternity, welcomed the children and their families, matched them with a system, provided them with some basic pointers and send them home with their computers. The volunteers will contact each family and arrange for a follow-up visit in their homes, to ensure that their computers are working properly.
"Many of the families on the receiving end noted how crucial it was for their children to have access to a computer at home in order for them to complete homework assignments that require use of a computer," Dr. Hershberger noted. "To see the expressions on the recipients' faces, especially given that this is the holiday season, was really something special. What CTEP is doing is giving used equipment new life, and the
people of this community new hope and opportunity, and it can't help but make you feel good."
CTEP has provided dozens of free computers to qualifying families and organizations in Putnam County, and over the next few weeks will distribute another two dozen machines. Hershberger says donations of equipment are always appreciated. "If you're upgrading your computer, instead of putting your current PC in the closet, put it to use through CTEP. By doing so, you're empowering one of your neighbors to learn, communicate and explore in ways they've never done before."
For more information on CTEP or to donate hardware, send an e-mail here or call Bob Hershberger at (765) 658-4745.
Back