DePauw and 2002 Grad Mentioned in Washington Post Story on Demise of Carl Rowan's 'Project Excellence'
December 11, 2002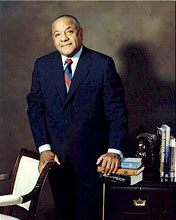 December 11, 2002, Greencastle, Ind. - "Project Excellence, a scholarship program founded by Carl T. Rowan (seen at left) to help local black students attend college, is ceasing operations after 15 years because the economic downturn has made it harder to raise funds," notes today's Washington Post in an article that cites DePauw University and an alumna whose education was made possible by Rowan's program. The Post notes, "Since its 1987 inception, the program has awarded about $109.5 million in scholarships, including as much as $700,000 a year in cash grants, to more than 4,200 District [of Columbia] and suburban high school seniors. The organization will fulfill its financial obligations through 2005, but it will not award new scholarships after the current school year."
Later, in the story entitled "Economy Halts Program That Aids Black Scholars," Karlyn Barker and Sylvia Moreno write,
"Kimberly Frazier [seen at right], who received a full, four-year scholarship to DePauw University through Project Excellence, said yesterday that without the program, she would have had a hard time paying for college. 'Without them, I would not have been able to attend DePauw,' said Frazier, 22, who graduated in spring and is in her first year teaching music at Skyline Elementary School in Prince George's County. Selected because of her academic performance and writing ability, Frazier was invited to Carl Rowan's home with other scholarship recipients and posed for photos that appeared in Jet magazine. 'I still have that picture,' she said. 'I was very impressed with him and proud to be honored. He made you feel very important.'"
Carl Rowan was a nationally syndicated columnist and television commentator. He died in September 2000.

"Mr. Rowan's commitment to ensuring that minority students had the opportunity to attend some of the nation's finest colleges is one that we share," said DePauw President Robert G. Bottoms. While we are very saddened to learn that economic conditions are bringing about the end of Project Excellence, DePauw University remains determined, through various scholarship opportunities and the Posse program, to maintaining and building upon a campus environment that is racially, economically and geographically diverse. Carl Rowan's program may be coming to an end, but his dream of opportunity for all will continue on," Dr. Bottoms added.
You can read the entire article online at the Washington Post's Web site by clicking here.
Back