Rabb Emison '47 to Receive American Bar Association's 'Spirit of Excellence Award'
January 20, 2003
January 20, 2003, Greencastle, Ind. - E. Rabb Emison Jr., a partner in the law firm of Emison Doolittle Kolb & Roellgen and a 1947 graduate of DePauw University, will be honored by the American Bar Association's Commission on Racial and Ethnic Diversity in the Profession with the Spirit of Excellence Award. Emison, a past president of the Indiana State Bar Association and founding chair of the state bar's Committee on Opportunities for Minorities in the Bar (now the Racial Diversity in the Legal Profession Committee), will receive the award at the ABA's mid-year meeting in Seattle, Washington, February 8.
The Spirit of Excellence Award celebrates the achievements of diverse lawyers and others who contribute to the legal profession and society. Awards are presented to lawyers who excel in their professional settings; who personify excellence on the national, state, or local level; and who have demonstrated a commitment to racial and ethnic diversity in the legal profession.
A page on the ABA's Web site, which announces Rabb Emison's honor, states, "In more than 50 years practicing law, Emison has demonstrated a commitment to equal justice under the law, and equal participation in the legal profession. As a senior partner in the oldest law firm in Indiana and a two-time recipient of his state governor's highest award, he combines personal prestige with sustained efforts to advance the careers of minority lawyers and the prospects of minority law students. He has created programs with tangible results, and has lived the premise that shared opportunities and rewards create a better legal profession." You can access the page by clicking here.
A recipient of an Alumni Citation from DePauw in 1997, Rabb Emison has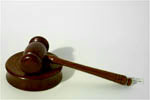 actively promoted and fostered opportunities for minorities in the legal profession. The Indiana Bar Association created the Rabb Emison Award to honor those in the legal profession who promote diversity. A past member of DePauw's Alumni Board, Emison has served on the boards of the Knox County Public Library, the Vincennes YMCA, the Vincennes Historical and Antiquarian Society, the Bi-State Authority, the First Presbyterian Church in Vincennes and the Flood Control and Water Resources Commission. He has been twice designated an Indiana Sagamore of the Wabash and once a Kentucky Colonel.
Back