Critical Inquiry Publishes Article by Prof. Michael Mackenzie
February 10, 2003
February 10, 2003, Greencastle, Ind. - "From Athens to Berlin: The 1936 Olympics and Leni Riefenstahl's Olympia," an article by DePauw University assistant professor of art history Michael "Mac" Mackenzie, is published in the current edition (Winter 2003, Volume 29, Number 2) of the journal Critical Inquiry. Dr. Mackenzie's work examines Leni Riefenstahl's film of the 1936 Olympics in Berlin-- the so-called "Nazi Olympics." An illustration from the professor's article (Athlete by George Grosz, 1922) graces the cover of the journal.
Mackenzie says his article "seeks to re-examine the question of whether that film was an accomplished work of art or a reprehensible piece of propaganda, and on which terms in either case. The discussion is taken out of abstract considerations of aesthetics, and relocated within the historical debates about sports, culture and race within which Riefenstahl would have operated."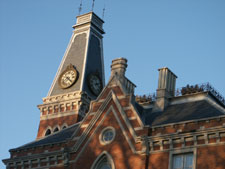 You can read a summary of the article by clicking here (a subscription is required to access the entire piece).
Founded in 1974 and published by the University of Chicago Press, Critical Inquiry is an interdisciplinary journal devoted to publishing the best critical thought in the arts and humanities. Visit the journal's Web site by clicking here.
Back