Political Science Professor Meets with President of India
February 11, 2003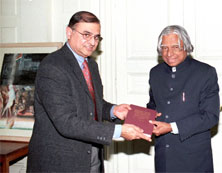 February 11, 2003, Greencastle, Ind. - Sunil K. Sahu, associate professor of political science, was invited by the president of India, A.P.J. Abdul Kalam, to meet with him at Rashtrapati Bhawan, the president's residence, on January 22, 2003, to discuss how India can become a developed nation by the year 2020.
During Sahu's hour-long conversation with President Kalam, who is a leading nuclear scientist in India, they discussed Kalam's role in the development of India's nuclear capability and the salience of technology transfer in the nation's development. The latter discussion revolved around Sahu's book, Technology Transfer, Dependence, and Self-Reliant Development in the Third World: The Pharmaceutical and Machine Tool Industries in India, which was

published in 1998. At the meeting, Sahu presented a copy of his book to President Kalam (seen in photo at top).
You can read more about Dr. Sahu's book, and order it, at Amazon.com and Barnes & Noble.com.
Back