Jeff Harmening '89, Overseeing Huge General Mills Product Launch, Shares Marketing Knowledge with Students
February 11, 2003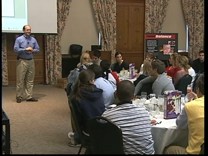 February 11, 2003, Greencastle, Ind. - What does it take to bring a new product to market, specifically the biggest launch in the 100-year history of General Mills? Students enrolled in DePauw University's Management Fellows program learned the answer to that question first hand from Jeff Harmening, director of new business for Big G Cereals and a 1989 graduate of DePauw, who returned to campus this week to give students insight into the company's marketing strategies for the new Berry Burst™ Cheerios® as well as a sneak preview of television advertisements that debuted hours later on ABC.
[DOWNLOAD VIDEO: "Third Generation" 644KB] "I'm really glad to be here," Harmening told the students who crowded into the ballroom of the Memorial Student Union Building. "I am a third generation DePauw student -- my grandfather was here, both of my parents are DePauw alums as was my uncle and my brother -- so lots of us have come to DePauw and I really cherish the chance to come back here and talk to all
of you."
Jeff Harmening explained that the 18-month process of marketing the new product is all-encompassing. "It's important to understand that marketing is not just advertising. Marketing is a mixture of many components also including promotions, public relations, and packaging." He told the students,
[DOWNLOAD AUDIO: "What They Want" 154KB] "whenever you're developing a new product, the very first question you have to ask yourself is 'What's the consumer insight... what's in it for me?' Marketing is not about selling people something that they don't want. Marketing is about trying to understand what people are looking for and trying to give that back to them. It is not possible, contrary to popular opinion, to sell somebody something they don't want. They may not need it, but they may want it, and if they want it then you have a chance."
Kellogg's Special K brand was able to create a market niche by packaging dried strawberries with the bran flakes. General Mills, which is chaired by 1968 DePauw graduate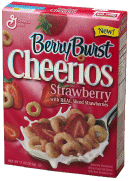 Steve Sanger, is hoping a burst of berries will build on the already tremendous market share of Cheerios. "You have to understand that Cheerios is a tremendous brand. One-half of mothers in the United States give their two-year-olds Cheerios. . .Berry Burst is about combining the Cheerios brand with the lively taste of strawberries."
It's been five weeks since General Mills launched the new product, and the early returns look very strong. "It is the biggest launch in the history of General Mills, and it will probably do $100 million worth of business in the first year." Harmening, who engaged students with multimedia including video, audio, posters, and free samples of the new cereal, humored the audience by comparing the competition between General Mills and Kellogg's to the clash in Star Wars. Showing images of Darth Vader, Yoda, and Luke Skywalker, he said, "We'll let you decide who is who."
In addition to Big G Cereal new products, Harmening has managed marketing for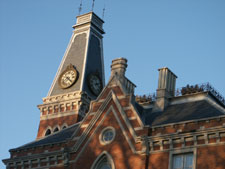 Betty Crocker Desserts, Colombo Yogurt, and Hamburger Helper for General Mills. In April of this year, he will become vice president of marketing for Cereal Partners Worldwide in Lausanne, Switzerland, a partnership between General Mills and Nestle.
Upon graduating from DePauw in 1989 with a major in economics, Jeff served as a financial analyst with Eli Lilly and Company. He received an M.B.A. from Harvard in 1994 before beginning his work at General Mills. He and his wife Lisa (DePauw '89) currently live in Edina, Minnesota, with their children, Caroline and Curt.
Back