Bill Fenlon Becomes DePauw's All-Time Winningest Basketball Coach
February 14, 2003
February 14, 2003, Greencastle, Ind. - When DePauw men's basketball coach Bill Fenlon was entering the college coaching ranks, it was at Rose-Hulman Institute of Technology in Terre Haute, where he served as head coach from 1988 through '91. On Thursday, Fenlon marked another milestone at Rose-Hulman. Fenlon, who is now in his eleventh year as head men's basketball coach at DePauw University, notched his 183rd win, making him the winningest coach in DePauw's hoops history. DePauw defeated Rose-Hulman 63-52, the Tigers' seventh straight victory and 13th in the last 14 games.
[DOWNLOAD VIDEO: "Remembering the Journey" 482KB] "I think I'm typical of most coaches, I think most of us remember the losses a little bit better than we remember the wins," a smiling Fenlon said this morning. "From that standpoint, when you think back on it, you think, you probably should have gotten here sooner than this."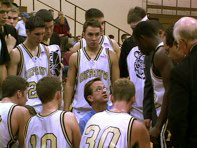 The modest mentor adds,
[DOWNLOAD AUDIO: "On Winning" 152KB] "Winning can be a little bit cyclical. You've got to have players, you've got to have some luck, things have to fall in place for you. When you set records, a lot of it is about longevity. Eventually if you stay some place long enough you've probably got enough games to become the all-time winningest coach."
Bill Fenlon's 183 eclipse the victory total of Elmer McCall, who served as head coach of the Tigers from 1958 through 1978. Fenlon gives credit to his players and those around him for supporting him from the beginning of his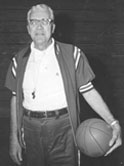 tenure.
[DOWNLOAD VIDEO: "The Response" 816KB] "I came in this morning and I had a bunch of e-mails from former players, some of them I haven't talked to in a while; clearly they're following it and feel like they're a part of it," he said. "When it all comes down to it, that's what it's all about -- developing relationships over time, because the wins and the losses fade a little bit, but the things you develop with people along the way are really the most important thing, so that part really feels good. And winning always feels good."
Reaching his milestone at Rose-Hulman, where Fenlon coached and whose coach Jim Shaw is a close friend of the DePauw head man, was slightly bittersweet. "In some ways, I guess I would have rather broken the record against somebody else because it's always a little bit of a problem when you coach against your friends and you want to see them
win all their games except that one," Fenlon said.
DePauw still has a road trip to Texas to play conference rivals Trinity and Southwestern left on its schedule, and then will compete in the inaugural Southern Collegiate Athletic Conference basketball tournament, held this year in Memphis, Tennessee. Fenlon headed the committee that decided to hold the season-ending tournament, but he said he had mixed emotions about it. The winner of the tourney gets an automatic NCAA tournament bid, regardless of their season record.
[DOWNLOAD AUDIO: "The Tourney" 249KB] "I was not overwhelmingly for it -- I was probably 52% for it and 48% against it," Coach Fenlon says of the change. "I feel we can be in the hunt for a regular season conference championship year in and year out, I mean that's our goal and that's where we feel like our program is at. But philosophically, I felt like the game is for the players, particularly at this level, and I felt like the tournament...
having a conference tournament and having the NCAA bid be attached to the conference tournament was the best thing for the most players."
With last night's victory, the Tigers ensure themselves no lower than a number three seed in the SCAC Tournament, and can clinch the number one spot with two wins in Texas. DePauw's women's team, ranked 19th in the nation, was also victorious last night, defeating Rose-Hulman 73-43. Get the latest on the men's team here. Visit the women's basketball team's Web page by clicking here.
The SCAC Tournament runs from February 27 through March 1 and every game involving both Fenlon's men and coach Kris Huffman's women's basketball team will be broadcast by campus radio station WGRE. You can access the live, play-by-play broadcasts online by clicking here.
(action photo and bottom portrait of Bill Fenlon by Marilyn E. Culler)
Back