Ken Bode Returning to DePauw as Pulliam Distinguished Professor of Journalism
April 3, 2003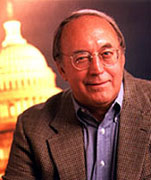 April 3, 2003, Greencastle, Ind. - Ken Bode, professor, Knight Chair in Broadcast and former dean of the Northwestern University Medill School of Journalism and a veteran, award-winning journalist with CNN, NBC and PBS, will return to DePauw University as the Eugene S. Pulliam Distinguished Professor of Journalism. Bode previously served DePauw from 1989 to 1997. He directed the Center for Contemporary Media from 1989 through '94, oversaw the creation of and directed the Media Fellows Program (1992-94), was John D. Hughes University Professor and was director of the University's public affairs lecture series. Bode begins his new responsibilities in the fall.
"Ken Bode is a nationally respected journalist and educator and a very good friend of DePauw," said DePauw University President Robert G. Bottoms. "He launched our media center and trained a good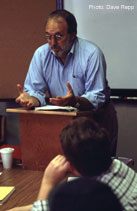 many young people who are now media professionals. Ken has many friends on campus, maintains a home in Greencastle, and is a perfect fit. The Pulliam family's generous gift, which created this professorship, was designed to raise DePauw's 'voice' in matters related to the practice of journalism. Ken Bode's experience and reputation uniquely qualify him to provide that voice, one that will command attention, and I couldn't be more pleased to welcome him back to the DePauw family," Dr. Bottoms continued.
"Margo and I are delighted to have the opportunity to return to DePauw, and, permanently, to Greencastle," Bode says. "In many ways, we've never left. Many of our most gratifying friendships and accomplishments are right there.
"I'm honored to be asked to assume the Pulliam professorship and look forward to teaching again with the DePauw faculty," Bode continued. "After four universities, three networks and a magazine, my resume is beginning to look like I can't hold onto a job. I hope to remedy that by finishing my career at the place that always has felt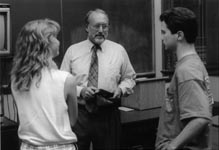 the most like home."
Ken Bode's career has included stints as moderator of PBS' Washington Week in Review, the network's longest-running public affairs program. Before joining PBS in 1994, Bode worked as a special assignment reporter in Washington, D.C. for CNN and as a Capitol Hill reporter for NBC News. He served as NBC's national political correspondent from 1981 to 1988 and has covered every presidential election since 1976. His four CNN documentaries -- one on George Bush, one on Bob Dole and two on Bill Clinton -- were part of CNN's winning two Joan Shorenstein Barone Award for excellence in public affairs reporting in 1992 and 1996. Bode began his career in journalism in 1975 as election and political editor of the New Republic.
While on the faculty at DePauw, Bode brought the University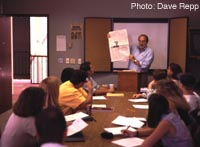 national attention by writing articles, op-eds and book reviews for the New York Times, the Washington Post, the Boston Globe, the New Republic, Columbia Journalism Review, Parents magazine and TV Guide. He is author of the final chapter in Toward the Millennium: The Elections of 1996.
A Phi Beta Kappa graduate in philosophy and government from the University of South Dakota, Ken Bode earned his Ph.D. in 1966 from the University of North Carolina and served on the faculties of Michigan State University and the State University of New York at Binghamton.
Back