Indianapolis Opera, The Trio of Minuet, Laden with DePauw Talent
May 8, 2003
May 8, 2003, Greencastle, Ind. - This Saturday and Sunday, May 10 and 11, the Indianapolis Children's Choir will perform Indianapolis' first professional children's opera, The Trio of Minuet, and its cast includes DePauw alumna Danielle Hurt '97 and two current students in the DePauw University School of Music (juniors Eric Carter and Stephanie Harris). Both performances begin at 7:30 p.m. at Clowes Memorial Hall on the Butler University campus.
All of the roles in The Trio of Minuet are being performed by current or former Indianapolis Children's Choir choristers. A news release notes that "The role of the babysitter is being portrayed by Danielle Hurt. Danielle Hurt, soprano (seen in photo at the top of the story), is a native of Indianapolis, Indiana where she was a founding member of the Indianapolis Children's Choir and graduated from Warren Central High School in 1993 as a Prelude Award winner in voice. In 1997, she graduated from DePauw University in Greencastle, Indiana, where she gained experience performing as a soloist in opera and oratorio. Danielle attended the University of Iowa, and is currently attending Butler University as a Master Degree student in vocal performance.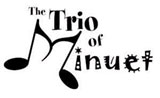 Danielle has performed the roles of Pamina and First Lady (The Magic Flute), Marie (The Bartered Bride), Fiordiligi, (Cosi fan tutte), Juliet (Gounod's Roméo et Juliette) and Alice Ford (Nicolai's The Merry Wives of Windsor), and has performed as a chorister at the Lyric Opera in Chicago in the 1998-99 season. Locally, Danielle is a member of the Indianapolis Symphonic Choir, and has performed with the Indianapolis Opera as a chorister and understudy for the Indianapolis Opera Ensemble. Recently, Danielle won second place in the Indianapolis Matinee Musicale's Graduate Voice Competition. As well as being a student, Danielle is director of music at First Baptist Church of Cumberland and teaches private voice lessons."
Later, it continues, "The part of Melodia will be sung by Stephanie Harris (seen in photo below with Eric Carter). A Carmel High School graduate, Harris is currently a junior at DePauw University. She participated in the Indianapolis Children's Choir for six years. Now she is majoring in vocal performance and currently studies voice with Vergene Miller.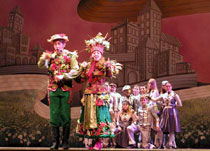 Stephanie has been fortunate to study overseas both in Vienna and Italy. She performed the role of Barbarina in Mozart's Le Nozze de Figaro while studying in Italy. In Vienna, Stephanie studied with world-renowned vocal coach, Walter Moore. Stephanie has had many performance opportunities at DePauw University. She played the roles of Cousin Hebe in Gilbert & Sullivan's H.M.S. Pinafore, the Princess in Ravel's L'enfant et les Sortileges, and just recently played Susanna in Mozart's Le Nozze di Figaro. She has performed in several master classes with Leonard Hokenson, Richard Hundley, and Alicia Berneche. Stephanie was a finalist in DePauw's Concerto Competition. She was also semi-finalist in the National Orpheus Competition. After graduating from DePauw, Stephanie hopes to go to graduate school and continue her education in voice. Someday Stephanie would like to be performing professional opera."
Finally, the news release states, "The part of Seemore will be sung by Eric Carter. Eric, a graduate of Carmel High School, is a junior at DePauw University studying Vocal Performance under Caroline Smith. He has played several roles at DePauw, including Count Almaviva in The Marriage of Figaro, Herr Schultz in Cabaret, the Clock and the Black Cat in Ravel's L'Enfant et les Sortileges, and Sir Joseph Porter in H.M.S. Pinafore. He will be performing in Massachusetts for the College Light Opera Company this summer. Eric is a veteran of the ICC organization, having spent a combined eight years in ICC and
IYC."
The Trio of Minuet, by Indianapolis composer and former ICC chorister David Aryeh Sasso, has been commissioned and underwritten with the gernerous support of the Max Simon Foundation. The production will also feature the Indianapolis Chamber Orchestra. The elaborate costumes have been designed by Galina Soloyvena and built in Russia. The story begins in the visually stunning town of Minuet. In this town, the people communicate only through dance but do not sing at all – in Minuet, music is, in fact, forbidden. Against this backdrop, three adventurous children wander into the woods, where they discover music for the first time in the sounds of nature. But when the people of Minuet stubbornly oppose their music, the children decide to set off and explore further.
Learn more about the production by clicking here.
Back