Vernon Jordan '57 Remembers 'Friend and Bandmate,' Former Atlanta Mayor Maynard Jackson
June 24, 2003
June 24, 2003, Greencastle, Ind. - "America has lost one of its boldest and most energetic political leaders," Vernon E. Jordan Jr., senior managing partner at Lazard LLC, a major figure in the civil rights movement and a 1957 graduate of DePauw University, says of former Atlanta Mayor Maynard Jackson, who died Monday. "And I have lost a high school buddy and a friend." Jordan's quote appears in a story in the Atlanta Journal-Constitution. Jackson died after collapsing Monday morning at Reagan National Airport, just after he arrived from Atlanta for a business trip.
The Journal-Constitution's George Edmonson writes, "Vernon Jordan, a Washington lawyer and New York investment banker, just missed Jackson at the Washington airport, where Jordan was catching a 6:30 a.m. flight to LaGuardia. Jordan's driver was waiting to pick up Jackson. 'I was dropped off at 6, and Maynard's plane came in at 7:58,' Jordan said. 'I was in New York in my office, and the driver called me from the hospital because he knew Maynard and I were friends,' Jordan said. The two men attended Atlanta's David T. Howard High School together" and played in the school band.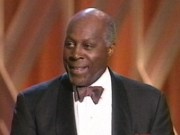 In today's edition of the Journal-Constitution, Vernon Jordan offers a touching tribute to his friend. "It is ironic that the same driver who dropped me at the Washington National Airport at 6 a.m. Monday was at the security gate waiting to drive my friend and high-school mate, Maynard Jackson, when he was stricken in the airport corridor. Ironic because our paths have crossed and joined together for more than 50 years." It concludes, "One of the most memorable times in my life -- the most dramatic awareness that the South and Atlanta had changed -- was my trip home for Maynard's swearing-in as mayor of Atlanta. I watched proudly, tears in my eyes, as my bandmate and schoolmate took the oath of office. It was a grand feeling, an unforgettable moment. And now Maynard Jackson, one of Atlanta's finest sons, has gone home. We will miss his boldness, his elegance, his eloquence, his fighting spirit. And yet, I am confident that our paths will cross again when we meet on the other shore."
In another story at CNN.com, Jordan, the former president of the National Urban League and author of Vernon Can Read!: A Memoir, recalls when Jackson became the first African-American elected to run a major Southern city, in 1973 at age 35. "You could feel it. I knew the South had changed."
You can access Monday's story in its entirety at the newspaper's Web site by clicking here. Today's tribute to Jackson, written by Vernon Jordan, can be found here. The CNN article is available here.
Back