Technology with DePauw Roots Implemented at USC
August 8, 2003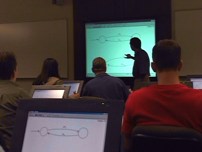 August 8, 2003, Greencastle, Ind. - Dynamic Knowledge Transfer, LLC's flagship software, DyKnow 2.3 -- which extends work originated by Dave Berque, associate professor of computer science at DePauw University -- has been implemented at the University of Southern California's Distance Education Network. DyKnow puts the power of technology into the hands of both teachers and students by connecting a teacher's electronic whiteboard or PC to student computers. This electronic note delivery system enables real-time communication between teachers and students through pen-enabled systems—both in a traditional classroom setting and in distance learning environments.
"DyKnow is able to provide the extra features of interactivity and personalization of notes that was absent before in our system," says Binh Tran, director of information technology for the USC's Distance Education Network (DEN). "DyKnow will allow DEN's engineering courses to have much more interactivity in the class with the instructor and allow students to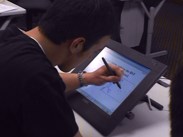 have a truly unique class experience." The DEN will use DyKnow 2.3 in select classes this fall.
A company news release states, "Dynamic Knowledge Transfer, LLC is a privately-owned company that develops interactive technology solutions for the future of education. Its patent-pending DyKnow technology extends visionary work pioneered at DePauw University" (read the complete news release here).
Dr. Berque's original system was called DEBBIE, an acronym for the DePauw Electronic BlackBoard for Interactive Education, which does electronically what teachers and students used to do with chalk, paper and pencils. The professor can display all class note information on an electronic whiteboard in front of the room and make handwritten notes on the screen during the lecture, and all the prepared notes and handwritten addendums are displayed on screens at the students' desks.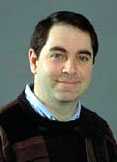 This allows students more freedom to actively discuss class material, ask questions and challenge information presented not only by the professor but also by each other. After class, students can review their electronic notes anytime they want, 24 hours a day, seven days a week. Classes in foreign language, communication, history, and mathematics are among those that use the system at DePauw.
The work of Dave Berque, who was named the 1997 U.S. Professor of the Year for baccalaureate colleges by the Council for Advancement and Support of Education, has been featured in stories by a number of media outlets, including CNN and USA Today. You can read more here, here and at ABCNews.com. Also available is a video that shows Professor Berque and the system in a classroom setting:

[DOWNLOAD VIDEO: "See The Video" 1427KB].
Back