National Media Report on Gen. Wesley Clark's Day at DePauw
September 24, 2003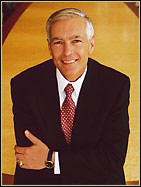 September 24, 2003, Greencastle, Ind. - Last night's Timothy and Sharon Ubben Lecture by retired general and Democratic presidential candidate Wesley K. Clark, which was covered by news organizations including the Washington Post, C-SPAN, the New York Times and Atlantic Monthly, among others, is getting plenty of ink. Today's Times notes, "'I've been against the war from the beginning,' [Clark] told reporters in Indiana, where he later addressed students at DePauw University."
The article continues, "'I never saw the imminent threat in Iraq, and I think the president failed to really make the case of the imminent threat," he said. "I think the facts on the ground show there wasn't an imminent threat, and I think this is the whole undercurrent which has made it so difficult for him to receive the kind of assistance he and we would like to have from the international community.'
Then, in his visit to DePauw last night, General Clark told students that the United States needed 'a new strategy for dealing with the world and a new strategy at home.' He also said his young campaign had already raised $1 million." Access the story by clicking here.
"An enthusiastic college-town crowd greeted Wesley Clark as the Democratic presidential candidate on Tuesday visited one of the most-reliable of Republican states in national elections," begins an Associated Press report. "The mix of students and area residents who made up the crowd of about 2,700 people at DePauw University interrupted the retired Army general with applause several times and many people waved
blue-and-white 'Draft Clark' signs." Read the entire piece here.
In today's Arkansas Democrat-Gazette, Noel Oman writes, "The Democratic Party's newest candidate for president said the Bush administration's failure to make the case that Iraq presented an imminent threat to the United States undercuts Bush's pitch for UN help. 'The president has caused a tremendous amount of problems with our allies, with our international organizations,' Clark told reporters before he was to give a lecture at DePauw University. 'It's not surprising that it's very difficult for him to get the kind of support for our country that we need. I think it shows that the administration's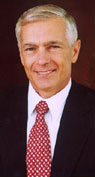 policy on Iraq has been faulty.'" Read more by clicking here.
General Clark's DePauw visit is the headline story in today's Indianapolis Star, which contains two reports. "Clark, a retired Army four-star general who led NATO forces in the 1999 Kosovo conflict, told a packed auditorium at DePauw University that the Bush administration has moved the country in the wrong direction since the 9/11 terrorist attacks," writes John Fritze. "'How dare someone say you're either with us or against us?' Clark said, prompting thunderous applause from the 3,000 students and local residents who attended. 'Americans understand that we're not going to be safe by building walls around this country.'"
Fritze's story includes quotes from DePauw President Robert G. Bottoms and student Leigh Ann Matesich, and states, "Clark flew into Indiana solely for the speech, part of the university's Ubben Lecture Series that has attracted policy-makers such as Colin Powell, Margaret
Thatcher and Shimon Peres." Read the Star articles by clicking here and here. Also available is a story from Indiana University's student newspaper, the Indiana Daily Student, here.
In addition, C-SPAN videotaped last night's speech for possible airing at a later date. All of central Indiana's television stations covered the event. Indianapolis ABC affiliate WRTV reported,

[DOWNLOAD VIDEO: "WRTV Clip #1" 1000KB] "The retired general said when he was booked to speak at DePauw University last month, he had no idea that today he'd be running for president." The story includes footage of an on campus rally that preceded the Ubben Lecture.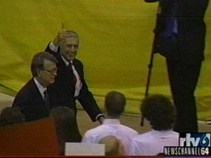 A complete recap of General Wesley Clark's DePauw speech -- complete with photos, video and audio -- can be accessed by clicking here.
The Ubben Lecture Series has brought distinguished individuals to the DePauw University campus since 1986, including former British Prime Ministers Margaret Thatcher and John Major, former Israeli Prime Minister Shimon Peres, General Colin Powell, Ross Perot and, in the 2002-03 school year, Spike Lee, Mike Krzyzewski, Harry Belafonte and ice cream entrepreneurs Ben & Jerry. To view a complete list of Ubben Lecturers, which includes links to video clips and news stories, click here.
Back