General Mills & CEO Steve Sanger '68 Lauded by Working Mother Magazine
October 2, 2003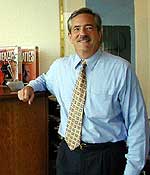 October 2, 2003, Greencastle, Ind. - For a second consecutive year, General Mills, led by CEO and 1968 DePauw University graduate Steve Sanger, is in the top 10 of Working Mother magazine's annual list of 100 Best Employers for Working Mothers. "General Mills has a terrific slate of benefits," said Working Mother editor Jill Kirschenbaum in an article in the Minneapolis Star Tribune. The story continues, "She credited CEO Steve Sanger, who last year received the magazine's Family Champion award. "He understands that family benefits mean more than a program in a handbook. He knows working moms and dads need to make their lives work."
The fourth annual listing of America's "100 Best Corporate Citizens," in the spring issue of Business Ethics magazine, ranked General Mills #1 (the second place company, Cummins, is also headed by a DePauw alumnus, 1969 graduate Tim Solso; read more here). Last November, Steve Sanger hosted a Presidential Reception at General Mills, where he welcomed prospective students, parents and alumni and discussed how DePauw helped him achieve "uncommon success."
Sanger stated, "it's just remarkable to me how many of the things that had a profound, lasting effect on my life, in a positive way, all started during that four-year period when I was at DePauw" (read more, and access video and audio clips, here).
Steve Sanger also serves on the boards of Target Corporation and the non-profit Catalyst (the research and advisory organization that works to advance women in business), the National Campaign to Prevent Teen Pregnancy and the Minnesota Business Partnership. He is a former chairman of the Grocery Manufacturers of America and the Guthrie Theater in Minneapolis.
Read the Star Tribune story online by clicking here.
Back